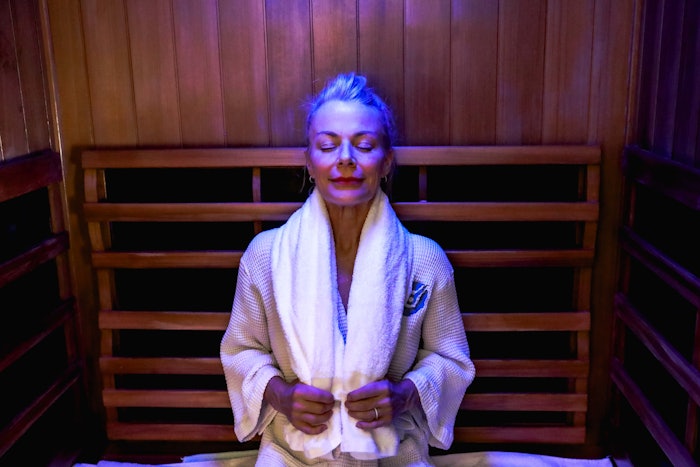 Photo courtesy of Restore Hyper Wellness
Restore Hyper Wellness opened its newest location and first on the North Shore in Woburn, Massachusetts. Owners, Parag Laddha and Kunal Rao, debuted their first Restore in Santa Clarita, California early 2022, and have committed to opening at least ten studios in Eastern Massachusetts in the next few years, with Watertown scheduled to open in early 2023. 
Restore features the fastest growing segments of wellness, helping clients manage pain, decrease signs of aging, improve sleep and focus, boost athletics performance and strengthen the body's natural defenses.
Related: ISSA Launches Health Coach Certification Program for Wellness Pros
Proactive Wellness Services
"Proactive wellness is rapidly growing as a priority for those seeking to do more of what they love, particularly those seeking solutions for nagging issues such as joint pain as they age," said Rao. "We were quite impressed by Restore's offerings and business model and have been amazed with the feedback from our clients in our first location. We look forward to bringing Hyper Wellness to the Woburn community and beyond in the coming years."
One of the most popular services offered at Restore is Whole Body Cryotherapy. This modality helps the body promote healing, boost mood and energy, optimizes sleep and has anti-aging benefits. The Woburn location offers the Two Cool Electric Cryo Chamber, allowing multiple people to access the service at one time, as well as an Infrared Sauna equipped for two people. 
Other offerings include: IV Drip Therapy, Red Light Therapy, Biomarker Assessments, Compression, Mild Hyperbaric Oxygen Therapy, HydraFacials and Cryoskin Treatments.
The grand opening for the Woburn location was held on Nov. 10-13, 2023, and featured a beauty night, fitness day and medical day.