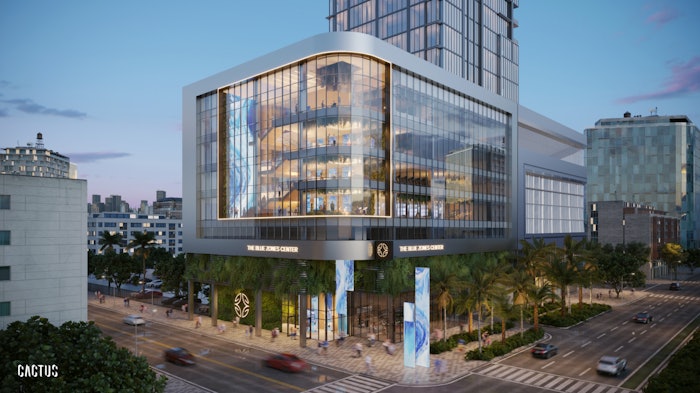 Photo courtesy of Blue Zones Center
Blue Zones Center has opened its first international flagship location in Miami. The new Blue Zones Center will ring in a new era of 21st century longevity medicine. It is inspired by Blue Zone's Power 9 research, which identified the lifestyle habits of the world's longest-lived people. 
The advanced healthcare/hospitality hub will provide medical care, predictive diagnostics and preventive medicine to optimize disease management outcomes and inspire advanced patient well-being and longevity. 
The Health Zone will also provide a new healthcare model that isn't dependent on illness, but derives the bulk of its patient acquisition through well-being. Other key features include the following:
 Nine Well-Being Centers in One
The Movement Center for Orthopedic Sports Medicine
The N-of-1 Center of Lifestyle Medicine and Health Benchmarking
The Center for Early Diagnosis, Precision and Longevity Medicine
The Center for Visible Health and Vitality
The Center for Performance and Functional Fitness
The Downshift Center for Behavioral health and Mindfulness
The Center for Specialized Medicine
The Center for Eyes, Ears, Nose and Throat
The Center for Longevity Research
Blue Zones Center N-of-1-Lifestyle Medicine Center
The center analyzes analyzes and curates services that improve self-healing. These cutting edge treatments reverse the negative effects of aging and work with Lifestyle Foundational Medicine and therapeutic treatments to improve life and longevity. The facility also used comprehensive data to generate a baseline report card of each user, including health insights, follow-up care, lifestyle medicine recommendations, products and services. 
Blue Zones Center & Legacy Hotel & Residences
The Legacy Hotel & Residences offers Well-Being Rooms and Blue Zone Rooms that are personalized for better patient care and outcomes. There, guests have access to a spa, Sleep Restore Rooms and Post-Surgical Rooms. The Blue Zones Center will be located in the Miami Worldcenter. 
"Imagine having one location that combines world leaders in longevity and lifestyle medicine, combining 360-degree well-being transformation with the latest innovations in predictive, preventive, longevity medicine where personalized care, preventive medicine and rejuvenation treatments all co-exist in one," said Stephen Watson, co-founder of the Blue Zones Center.