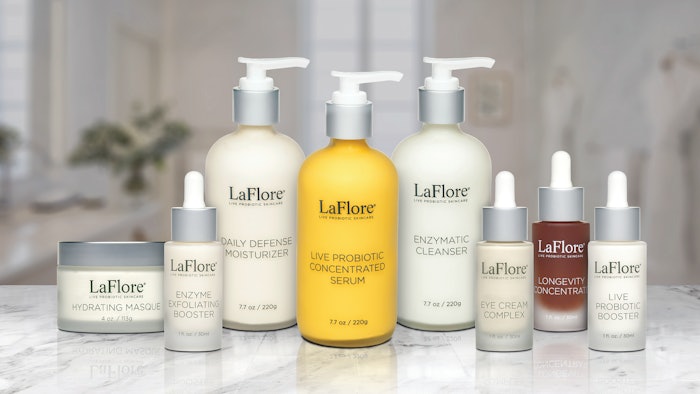 Photo courtesy of LaFlore Live Probiotic Skincare
LaFlore Live Probiotic Skincare is the first probiotic skin care company to be Kind To Biome certified. The certification offers a recognizable mark that assures skin and scalp microbiome gentleness of products and ingredients for consumers. 
This international mark of quality has been achieved by LaFlore Live Probiotic Skincare through testing and evaluations of the formula's influences on the skin microbiome. The certification is validated by third-party experts including dermatologists and molecular microbiologists. 
Related: How Topical Probiotics Can Improve Skin Health
LaFlore Live Probiotic Skincare supports healthy skin by boosting the beneficial bacteria with live probiotics, rather than only probiotic extracts, essences or lysates. Live probiotics help the microbiome produce postbiotics necessary for skin to mend and thrive naturally.
These postbiotics include: AHAs, PHAs, BHAs, vitamins like retinol, antimicrobial peptides, amino acids, micronutrients, antioxidants, anti-inflammatory substances, ceramides and more. 
"Due to the current state of cosmetic regulation and as the leader in the emerging category of probiotic skin care, we feel that it's our responsibility to provide unbiased scientific support to claims such as microbiome friendly," said Brent Ballard, chief operating officer of Dakota Biotech (LaFlore's parent company). "This category is here to stay, and consumers need to know being microbiome friendly is more than a marketing term."