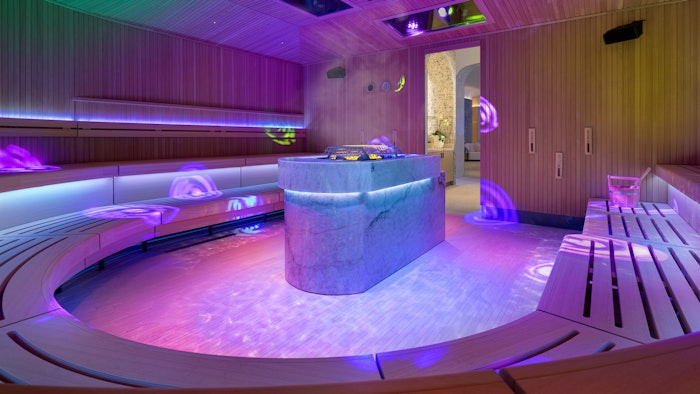 Photo courtesy of Design for Leisure
Design for Leisure (DFL) announced a comprehensive Event Sauna Services program to better accommodate the demand for European-style communal, social sauna experiences in the US and the UK. 
The program provides spas, urban bathhouses and wellness centers a solution for bringing their own signature Sauna Aufguss experience to life, an opportunity for a new revenue stream. 
Related: [Inspiration] Awana Spa's Treatments Designed Around Theater
Event Saunas are specially designed, large saunas that can fit at least 10 people (the largest in the world hosts up to 300). The space also provides enough room for professionals to perform the "Art of Aufguss" or lead group classes such as classes, meditation or breathwork. 
"It's crucial to purpose-design an Event Sauna from the ground up, but the payoff is significant," says Don Genders, DFL CEO. "Individual performances can be upsold, and depending on capacity, facilities that maintain a 50-person daily occupancy, for example, can easily generate an additional $2,000 a day with little additional operational costs."
The DFL team is behind the design and build of the Event Sauna in the US at Resorts World AWANA Spa & Wellness in Las Vegas. The company also recruited Lasse Eriksen to lead the Aufguss Training services for AWANA. In addition to practical and theoretical Aufguss Training, DFL also provides management teams with a workshop for maximizing ROI.