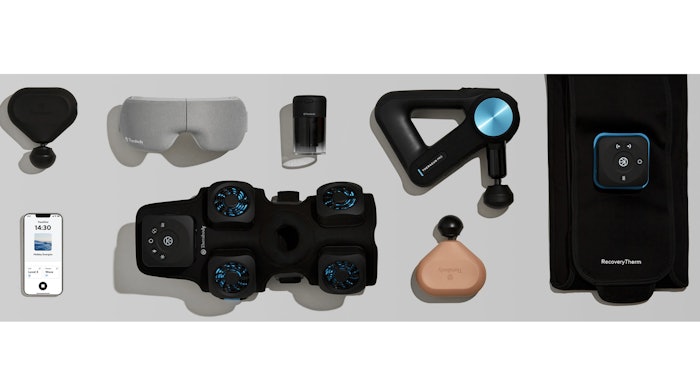 Therabody has launched eight new products that expand the brand to whole-body wellness with benefits across performance, pain, stress and sleep. 
The expanded product line includes an updated Theragun PRO and Theragun mini, as well as SmartGoggles that pair with the new TheraMind sound therapy content available through the Therabody App. The company has also reduced plastics in its new packaging by 85% in order to significantly reduce its impact on the environment.
Related: Therabody Offerings Added to Ennismore Hotels Around the World
This launch celebrates the company's commitment to holistic wellness and includes customized therapies that empower consumers to manage their mental and physical well-being. 
1. Theragun PRO
The device improves recovery, performance, mobility, sleep and stress. Powered by QuietForce Technology, the second generation of Therabody's proprietary EQ-150 motor has been redesigned to deliver the same power, but 20% quieter than the previous version. The redesign also has a built-in OLED screen, now in color, that displays routines to enable users to accurately and more easily treat the body. 
2. Theragun mini
The Theragun mini is now 20% smaller and 30% lighter, and is proven to relieve aches and pains, improve recovery and is easily transportable. With 12 mm of amplitude, the mini is smaller but still provides the same amount of power. The device now connects via Bluetooth to the Therapybody App to enable access to a library of personalized wellness routines. Both the PRO and mini now incorporate USB-C ports for faster charging. 
3. SmartGoggles
The first-of-its-kind facial device that uses SmartSense Technology to combine a biometric heart rate sensor with vibration, heat and massage, this device is able to ease headaches and facial tension, encourage relaxation and optimize sleep. It is Therabody's first device to be integrated with a smart sensor that utilizes biometric data to personalize the treatment, which gradually lowers heart rate to reduce stress and anxiety. 
4. TheraMind
The company's sound therapy content is designed to support the user throughout the day. This science-backed audio content is produced using musical elements and audio techniques to improve mental and physical well-being across focus, relaxation and sleep. The product has launched with SmartGoggles and integrates with all of Therabody's connected products as of October 2022. 
5. RecoveryTherm Hot & Cold Vibration Knee
The device combines cold, heat and vibration therapy to provide recovery, rehabilitation and pain relief. Using Cryothermal Technology and germanium fabric that naturally emits far infrared light, this device helps increase circulation and enhance the body's natural healing process.
6. RecoveryTherm Hot Vibration Back & Core
The wearable device offers precise heat and vibration to alleviate chronic lower back pain and pain associated with minor muscle tweaks, injuries and menstrual cramps. Carbon fiber mesh is woven into the material to distribute consistent heat around the entire core, and germanium fabric increases circulation. The device offers two levels of heat (high and low) and three levels of vibration (low, high and wave mode), allowing for personalized treatment to alleviate pain and soreness. 
7. TheraCup
The device combines traditional cupping with ThermaVibration Techonlogy, pairing heat and vibration to create an easy-to-use, digitized cupping experience that optimizes localized relief and recovery. 
8. Therabody Lounger
The zero gravity lounger shifts the mind and body into a deep state of relaxation, focus or sleep. The Lounger utilizes TheraSound technology to transmit sound waves through the body that are felt as vibration, like a musical massage. When the vibrations resonate with the central nervous system, the effect can be deeply calming and restorative for both mind and body, transitioning the user into a meditative state. 
"We believe that wellness should be accessible to everybody with innovative, personalized products that are backed by science," said Benjamin Nazarian, chief executive officer of Therabody. "The new additions to our ecosystem not only bring the future of well-being to life, but also represent Therabody's own evolution as we broaden our product portfolio from hardware to biometrics and content to support both the body and the mind."