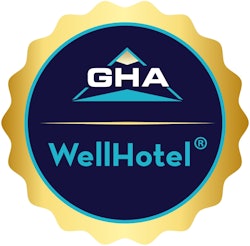 The Grand Richmond Hotel has received WellHotel Accreditation for Medical Travel and Well-being by the Global Healthcare Accreditation (GHA). 
The resort recently added a 35-story tower and upgraded existing facilities with a remodel and redesign. The facility welcomes travelers from all over the world, especially guests who want to focus on their well-being or recover after a medical treatment.  
Related: BC Softwear Introduces Flip Flop Recycling Initiative
GHA created the WellHotel Accreditation to recognize hotels that enhance the guest experience and safety protocols for wellness and/or medical travel guests. The program focuses on validating the services hotels provide for the growing wellness market.
GHA WellHotel Accreditation Key Highlights
Building trust, confidence and comfort for wellness tourists or medical travel guests through a third-party review and trusted GHA WellHotel seal.
Attraction by guests in new niche markets to increase room bookings and length of stay.
Validation of the hotel's cleanliness and safety, and instilling peace of mind that proper cleaning and sanitation is a hotel priority.
Validation that safety protocols are in use for guests and staff.
Attraction for bookings through wellness travel agents and medical travel facilitators.
Providing assurance to medical travel and wellness guests that the hotel identifies and supports the cultural, dietary, religious, handicapped access and other unique needs of the guests.
Increase in guest satisfaction for wellness tourists and medical travel guests.
Well-being and medical travel packages provide an opportunity for organizations to increase TRevPAR.
"At Grand Richmond we strive to offer each guest the most exquisite experience with the utmost attention to detail. Many of our guests choose the Grand Richmond Hotel to focus on their health and well-being," said Laksawan Wongworrakan, Grand Richmond Hotel CEO. "We offer them a calm and healing environment with safety protocols and services that meet their unique needs. It is an honor to have achieved GHA WellHotel for Medical Travel and Well-being Accreditation, which demonstrates our commitment to the safety and well-being of our wellness and medical travel guests."