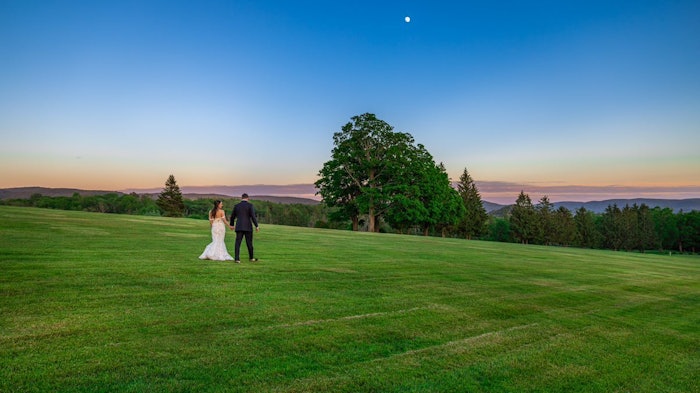 Photo courtesy of Miraval Berkshires.
Miraval Resorts & Spas will now offer its first ever well-being wedding program: Miraval Mindful Weddings. Available to book this fall at Miraval Berkshires, the mindful wedding is a multi-day, immersive experience customized to honor the couple's intentions. 
Related: Miraval Renovates All Three Properties
The mindful wedding journey includes a thoughtful well-being itinerary for the couple, experiential reconnection opportunities for their guests, and a ceremony and reception that contains mindful touch points. Each wedding's focus is designed around the foundation of connection and communication. Through programming and support from a spiritual guide, each couple will learn how to create a wedding that mirrors the process of composing a life together.
The couple and their wedding guests will have access to Miraval Berkshires' signature wellness programs and spa services to create a bespoke wedding celebration. Dedicated event planners will assist in designing a personalized, mindful wedding journey. 
Leading up to the ceremony, couples have the option to participate in a two-to-three-day immersion to set intentions and prepare for the emotions of the upcoming celebration. After the wedding festivities, couples and guests can extend their stay at Miraval Berkshires and spend time reflecting on the wedding celebration. After a farewell group yoga or qigong session, the newlyweds can ring the Tibetan gong together, symbolizing the beginning of their new life together. 
"Through the mindful offerings available as part of Miraval mindful weddings, couples are given tools focused on better understanding the dynamics of their relationship, making decisions together, mitigating conflict and practicing gratitude for each other," said Rudi Bach, relationship guide and sound meditation practitioner at Miraval Berkshires.