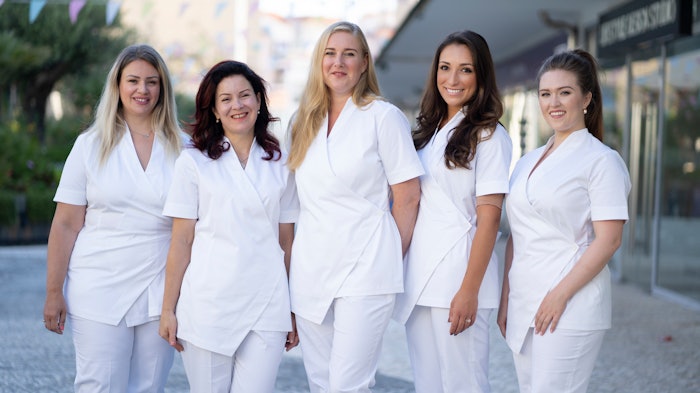 Sustainable spa uniform specialist Fashionizer Spa is still receiving positive feedback some two years after the launch of its Eco Smooth fabric. Developed and launch mid-pandemic, Eco Smooth material has a silky finish and combines the properties of organic cotton (60%) and the durability of NewLife PET (37%), with a small amount of Lycra (3%).
The cotton component of Eco Smooth ensures that it is strong, breathable, hypoallergenic, comfortable and biodegradable, while the organic production process reduces the negative impact on local water quality and biodiversity. Silverplus, an antimicrobial and environmentally friendly solution, is applied to help prevent the buildup of odors. A soil release treatment may also be applied, which allows the uniforms to stay fresher for longer and enhances launderability at lower temperatures. 
"The fit, cut and comfort of our uniforms is important—we want to look stylish and function easily throughout the day," says Kaitlyn McKissick (Morro) of Infinity Group Gibraltar, which uses the brand's uniforms daily. "Fashionizer Spa's garments tick all these boxes—customers love to see us looking chic, the design supports our individual shapes and we appreciate the fact that Fashionizer Spa has taken the initiative to create their garments with sustainable materials. The age of gorgeous and ethical uniforms is here." 
Current customers include Nobu Hotels and Aromatherapy Associates. Uniforms in Eco Smooth can be used in housekeeping as well as spa environments.