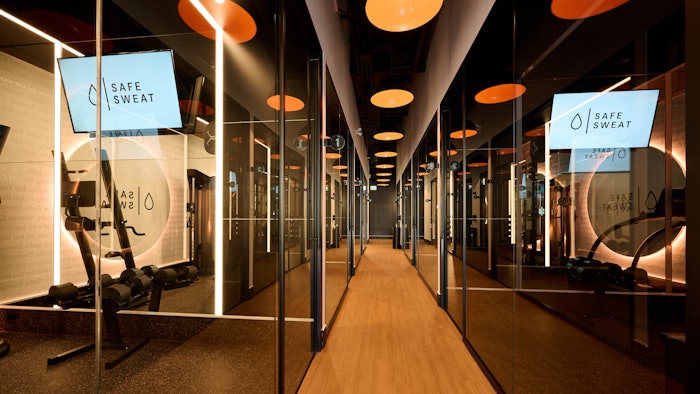 Courtesy of Safe Sweat
Safe Sweat, a hybrid fitness concept that combines an at-home workout with the equipment and digital programming of a fitness facility, officially opened its first location in British Columbia. Safe Sweat offers a private fitness experience in fully equipped gym-like spaces called FITsuites. This provides a comfortable option for those who don't enjoy working out in a group setting. 
Related: 6 Emerging Fitness Trends
The flagship South Surrey location features eight private FITsuites equipped with cardio, squat racks, resistance training and functional equipment. Dimmable lighting and recovery tools are also available to further support a total body wellness experience.
Each suite has a digital screen programmed with the Safe Sweat Fitness library, where members can select from workouts categorized by body part, workout type and fitness type. After each session, every FITsuite isthoroughly sanitized.
Safe Sweat cofounders Emre Ozgur and Andrea Kloegman are fitness lovers who experienced body image issues and gym anxiety, which prompted them to fill a void in the industry. This gap-bridging solution will provide a premium workout experience without the potential judgment or discomfort that people can experience in traditional gym settings. 
"Millions of people suffer from gym anxiety, but not enough people talk about it, and we wanted to not only normalize the conversation but provide a solution," says Ozgur. "By removing outside distractions, the need to wait for or wipe down equipment, and the stressors of working out in a busy public gym, the focus shifts back to the only person that matters: the person in the mirror."