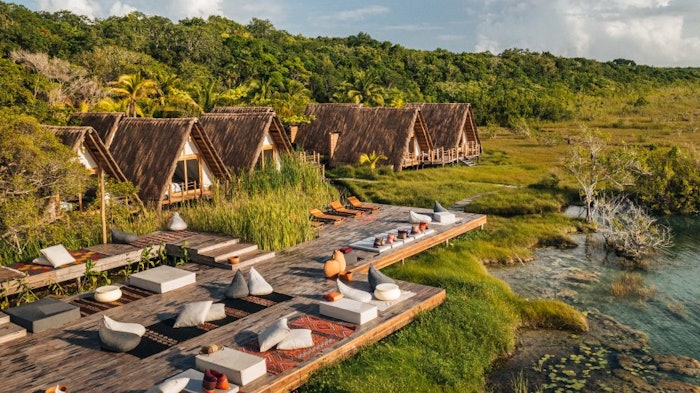 Courtesy of Habitas Bacalar
Holistic oasis Habitas Bacalar was named the top sustainable spa facility in the Marie Claire UK Sustainability Awards. Habitas Bacalar, located on the waters of Laguna Bacalar, Mexico, is lead with a focus on sustainability, community and shared experiences. 
The judge panel was made up of the Marie Claire team, as well as more than 50 high-profile experts, thought leaders, activists and business founders in sustainability. The awards celebrate brands and organizations that are authentically implementing change and making strides toward an ecologically sustainable future. 
The spa takes inspiration from a small Mayan village, with preservation and wellness as the core beliefs reflected in the design and daily practices of the location. Habitas Bacalar features treatments like the nourishing Chocolate Body Wrap that includes a coconut and oatmeal exfoliation; and the Traditional Mexican Sobada, which is a relaxing and regenerative body treatment that uses herbs to provide energetic alignment.
"Bacalar affords us a monumental opportunity to dive into the rich histories and bring them into the present in a resource-conscious way, which you'll see in everything from the traditional Mayan Straw Houses of the spa to the carefully designed therapies using local ingredients," said Oliver Ripley, Habitas Bacalar cofounder and CEO. "We wish to provide our guests with a revelatory first-hand lesson in how our relationships with other cultures, and with the past, can change our present and shape our future."