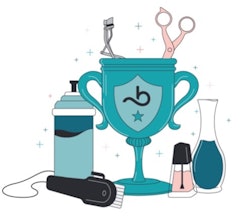 Booking and business technology platform Booksy has introduced the Best of Booksy Awards. During each quarter, the company will recognize top beauty and wellness providers in various categories as part of its awards program. 
There will be one award given in each primary category that includes: Hair Salon, Day Spa, Massage, Skin Care, Nail Salon, Barbershop, Personal Trainer, Makeup Artist, Home Improvement, Eyebrow and Lashes, Tattoo Shops, Aesthetic Medicine, Teeth Whitening, Dietician, Physical Therapy, Hair Removal, Holistic Medicine, Wedding Makeup Artist, Piercing, Braids, Health and Wellness, Chiropractic and more from select cities across the U.S. 
Based on Booksy's data, winners will receive an awards badge on their Booksy Marketplace business profile and be sent a certificate, which can be showcased in their business location or on their social media pages (via the Booksy Social Post Creator using the hashtag #BestofBooksy).
During Q1 2022, 3,856 providers were awarded The Best of Booksy out of a possible 23,796. Second quarter 2022 winners will be based on data collected from April 1 through June 30.  Some of the categories include: Most Buzz, Greatest Loyalty, Most Booked, Best Portfolio and Busiest. 
"The Best of Booksy Awards allow us to recognize and celebrate those who have excelled in their sector and allow them to truly stand out in their community," said Dee Hadley, head of marketing for Booksy. "These are incredibly talented, business-savvy beauty professionals who we want to highlight on an ongoing basis." 
There are no requirements to be entered into the Booksy program, but the city must meet the minimum thresholds, which includes the number of providers in the city and the certain number of providers in a category.