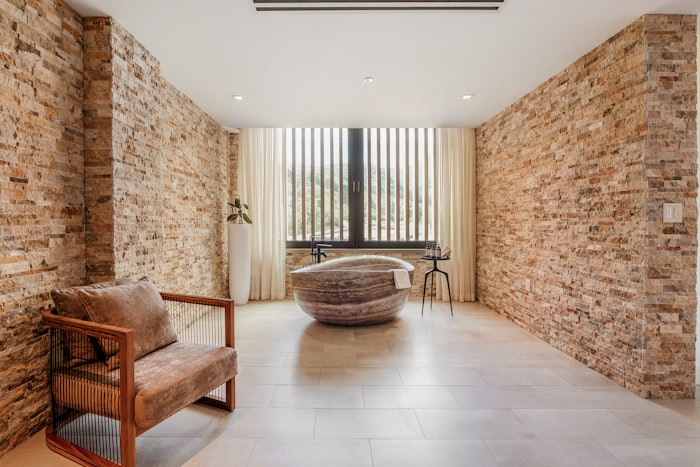 Courtesy of The Lodge at Blue Sky, Auberge Resorts Collection
The Lodge at Blue Sky, Auberge Resorts Collection has partnered with THE WELL to create an exclusive retreat from May 30-June 2, 2022: The Week of WELL.
Programming includes craniosacral therapy, ancient modalities, immersing guests in nature and drawing inspiration from the Lodge's expansive alpine setting. The four-day experience will show guests best practices in mindfulness, movement, nutrition and medicine with personalized sessions led by visiting masters.
Michelle Stoppi, a master practitioner, licensed craniosacral massage therapist and the leading educator of craniosacral professional continuing education in the U.S., will lead retreat sessions that explore the nervous system and its connection to the Earth's bio-magnetic field in order to overcome stress and achieve peace.
Gabe Kennedy, founder of Plant People, will create a healthy lunch featuring regenerative plant and mushroom supplements. Guests will also enjoy a sunrise hike to mountain-top yoga, breakfast with Blue Sky's wellness experts and a six-course dinner in which executive chef Galen Zamarra expresses food as medicine. 
At the end of the retreat, guests will have awakened their inner healer and unearthed a new way to care for their mental, physical and spiritual health.
"I am very much looking forward to the magic we will be making with The Lodge at Blue Sky in May," said Stoppi. "This retreat will be a great opportunity for anyone curious to get in tune with their well-being and further expand their consciousness. Whether you are looking to shake up your routine, make adjustments to your health, or learn more about integrative practices in general, the lessons learned during this week are sure to impact your life for years to come."