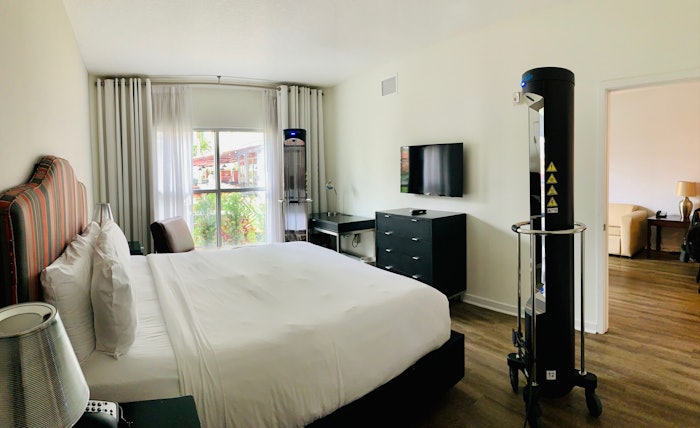 Courtesy of Meliá Orlando Celebration/Surfacide
Meliá Orlando Celebration is now working with Surfacide, which uses UV light technology for disinfection.
The hotel is now the first in the U.S. to offer Surfacide's UV disinfection robots. All 289 guest rooms and indoor public spaces will be cleaned with by the disinfection robots, which will are deployed after each guest checks out or after any staff leaves a room.
The Surfacide Helios System is a UV-C disinfection solution with a trio of light emitting robots that kill deadly viruses and microorganisms on surfaces and in the air in as little as 5 minutes. The technology is able to inactivate coronavirus.
"Keeping our guests safe and healthy is our first priority at Meliá Orlando Celebration," said Antonio Baez, general manager of Meliá Orlando Celebration. "We have made some amazing progress in guest safety over the last 18 months with the Stay Safe with Melia program, opening of 10 new Stay Well suites and now the addition of Surfacide, giving our guests the utmost confidence in their vacation experience."