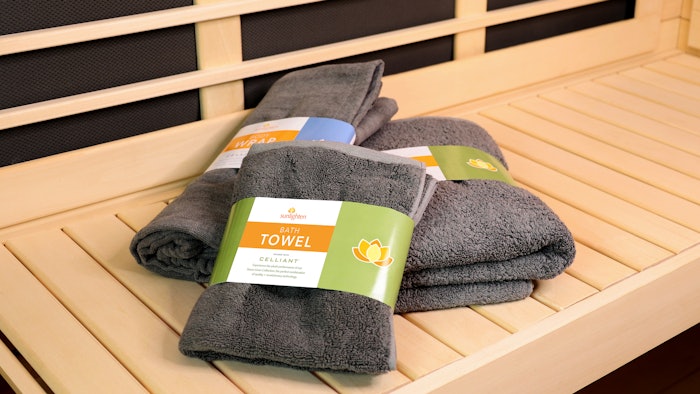 Courtesy of Sunlighten x Hologenix
Sunlighten and Hologenix have launched a collection of sauna spa products meant to enhance the sauna experience. 
Sunlighten is a leader in infrared saunas and portable light therapies. Hologenix is the creator of CELLIANT infrared responsive textiles found in numerous performance, recovery and sleepwear brands. As a result of the partnership, fabric infused with CELLIANT now covers Sunlighten's infrared heaters in all its sauna cabins to maximize the infrared therapy.
Sunlighten's luxury cotton accessories are also infused with CELLIANT for those who want to expand the health benefits of infrared. The dual-purpose fabric provides added health benefits, as well as comfort, luxury and practicality both inside and outside the sauna. CELLIANT's natural, ethically sourced minerals are embedded into yarns to transform body heat into full-spectrum infrared energy and return it to the body, promoting circulation and cell oxygenation while keeping the user dry and at an ideal temperature. This results in stronger performance, faster recovery and better sleep.
The Sauna Linen Collection consists of a CELLIANT cotton hand towel, bath towel, robe and body wrap.
"This is a natural partnership for us. Sunlighten infrared saunas and our CELLIANT infrared performance technology working in tandem to maximize health and wellness. The CELLIANT/cotton blend fabric is also the perfect combination of luxurious comfort and our revolutionary infrared technology," said Hologenix co-founder and CEO Seth Casden.