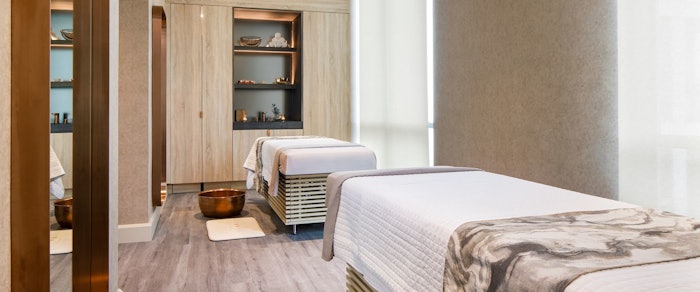 Courtesy of The Joseph
There have already been quite a few health and wellness based businesses and hotel and spa resorts to open this year.
Due to the nature of the pandemic and its effect, there seems to be even more openings on the horizon.
Check out these openings and see how these offerings can help your clients:
Kellie Bowman, daughter of the renowned herbalist and healer Alfredo Bowman (aka Dr. Sebi), owner of Sebi's Daughters and licensed nurse, opened the center. The Honduran Experience Wellness Center will offer products, a mini-spa, private consultations and Pilates classes. Sebi's Daughters will also launch a new line of products including Sebi Sicles, a wellness frozen treat, and Candy Butter, a hair and body moisturizer. 
"I decided during COVID that I didn't just want to offer a store," said Bowman. "I wanted it to be a serious experience. We've been through so much. I wanted for people to feel that innermost natural part of themselves — to de-escalate from all the anxieties. I want to bring calm to your door."
Set to open in 2023, the resort will encompass three adjacent 16th-century buildings, including an original chapel and theatre. It will have 82 combined rooms and suites. The resort will feature a rejuvenating spa offering four treatment rooms, each with its own sauna and steam room. Guests will also have access to an outdoor swimming pool and fitness center. Additional facilities include a wine tasting room, art gallery, boutique and an on-site enoteca offering tastings of fine Italian wine.
The Joseph| Nashville, Tennessee
The Joseph has opened its luxury spa and salon, Rose, with an emphasis on physical and mental renewal and rejuvenation. Rose features six treatment rooms 6 treatment rooms, a full-service salon, oversized locker rooms with "experience" showers and a relaxation room. 
"Rose is a comprehensive wellness journey unlike any other in Nashville," says Mark Yanke, GM. "Whether guests stop in for one treatment or regularly visit the spa to practice a structured long-term routine, they will find a nurturing environment where healing and relaxation are incorporated every step of the way."
Standout treatments include:
Hyper-Customized Facial: utilizing the Biologique Recherche Remodeling Face machine, Rose's signature facial offers hyper-customized treatments according to guests' specific skin types
Rose Indulgence: connecting the healing vibrations of rose quartz crystals and pure Damascena Rose Oil, this indulgent treatment for back, scalp, and face releases pressure and invigorates the skin.
Ku Nye: a body treatment that blends five essential oils, Tibetan cupping, kneading and acupressure stabilizes the sensory organs and releases both physical and mental pressure
The Dolder Grand features a 43,000-square-foot spa, complete with a 25m indoor swimming pool, whirlpool terrace, steam bath, samarium, sauna, library, relaxation room and fitness center.
Cutting edge treatments include:
Haute Couture Wellness: Dr. Pauline Burgener helps eliminate signs of aging including reducing wrinkle depth, refine skin complexion and leaving guests with an enhanced youthful glow. The team of experts will first give guests an in-depth skin analysis and identify the best treatment and develop made-to-measure products perfectly tailored to your skin and its needs. 
Scenic Running Tours of Zurich: Explore Zurich's high-end shopping streets, sweeping down boulevard Bahnofstrasse, pass by the 12th century cathedral, Grossmuster and wind along Lake Zurich. Participants then head back to the hotel and through the bordering Adlisberg forest.
Life Balance Package: This package is designed to help people deal with the stresses of daily life (that were of course, exacerbated due to the pandemic). The Dolder Grand works with guests to curate a personalized wellness offering, making for the ultimate wellness escape. Guests will discover true well-being, both mentally and physically, and will leave with a renewed sense of inner harmony. Guests can enjoy facials, massages, body wraps and skin-rejuvenating beauty treatments (including Botox). Guests will experience the perfect spa day and achieve their goals – whether that be focused on beautifying treatments, relaxing, awakening your sense of vitality, or detoxing. 
The Puente Romano Beach Resort and Barrecore, a body transformation exercise regimes, have partnered to bring guests  The Beach Barre Body Retreat. The retreat will take from Thursday, September 23-26, 2021, and will offer guests a bespoke program of instructor-led classes. A fully qualified Barrecore instructor will host three classes each day, taking place inside the dedicated Barre studio, outside on the beach and in the new outdoor yoga space. Guests will be invited to join a total of three classes over the course of the retreat. Puente Romano's Health and Fitness Center offers the latest technologically advanced equipment, and results-driven personal training programs created by world-class champions. Guests will also benefit from the on-site clinic providing comprehensive health diagnostics as well as an on-site nutrition expert offering bespoke advice on diets to suits all needs and lifestyles.