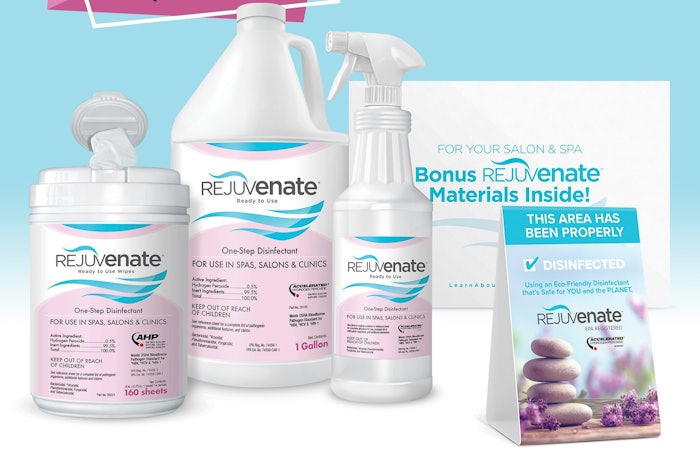 Courtesy of Virox Technologies
Virox Technologies, the maker of Rejuvenate Disinfectants, has launched a Disinfection Kit for professional beauty pros. This kit will allow spas and salons to disinfect in as little as one minute and sanitize in only 30 seconds with eco-friendly, EPA registered hospital-grade disinfectants.
The new kit includes Disinfectant Wipes, Ready-to-Use in 1 Gallon, a reusable spray bottle with trigger sprayer, and label and bonus material (Window Decals, Tent Cards, Wipes Protocol, Poster and Client Communication Aids). Rejuvenate Disinfectants kill hepatitis B and C viruses, athlete's foot and nail fungus, MRSA and other relevant pathogens. They meet OSHA Bloodborne Pathogen Standards, as well as the EPA's criteria (List N) for use against the virus that causes COVID-19.
"Our new Rejuvenate Disinfection Kit is designed to give beauty professionals the tools they need to keep their surfaces and equipment germ-free and safe for their next client appointment. As infection prevention remains top of mind across the industry, effective disinfection protocols are a powerful tool in protecting clients from getting sick," said Matthew Buccioni, infection prevention and biosecurity specialist at Virox. "By bundling our EPA-registered hospital-grade disinfectants with protocols and client communication resources, we want to make disinfection compliance as simple as possible."