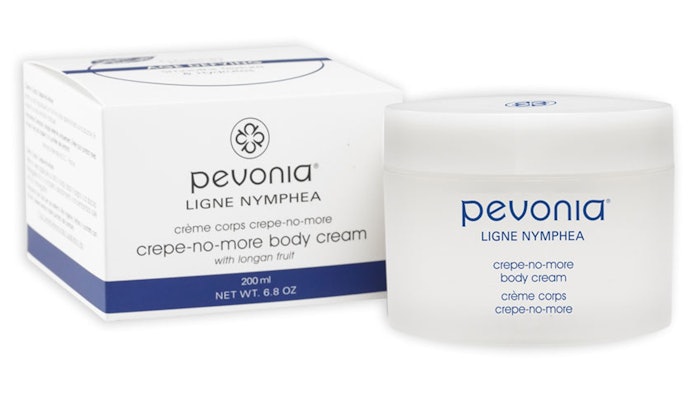 Pevonia Crepe-No-More Body Cream was named Best Firming Body Lotion at the 12th Annual Healing Lifestyles Earth Day Beauty Awards. The win recognizes Pevonia's commitment to creating quality products while protecting natural resources, thanks to its natural, cruelty-free formulas and post-consumer recyclable packaging.
Crepe-No-More Body Cream treats the skin and fat distribution that can take place during aging. Key actives include antioxidant and anti-inflammatory longan fruit; caffeine extract, which speeds up fat cell metabolism and breaks down fat cells; hyaluronic acid; firming marine collagen; and shea butter. These potent ingredients work together to firm and smooth the skin, reduce crepiness and deliver deep hydration. 
About Pevonia: Pevonia believes the most powerful skin care ingredients come from the safest source—nature. For three decades, the brand has used highly sustainable processes in line with its stance on environmental conservation, and in 2019 Pevonia became a proud supporter of charity: water. Pevonia delivers outstanding multicultural solutions to nearly 130 countries by restoring, de-aging and revitalizing the skin. It tests only on humans and is a leader in delivering natural skin care solutions to elite spas and leading estheticians globally.