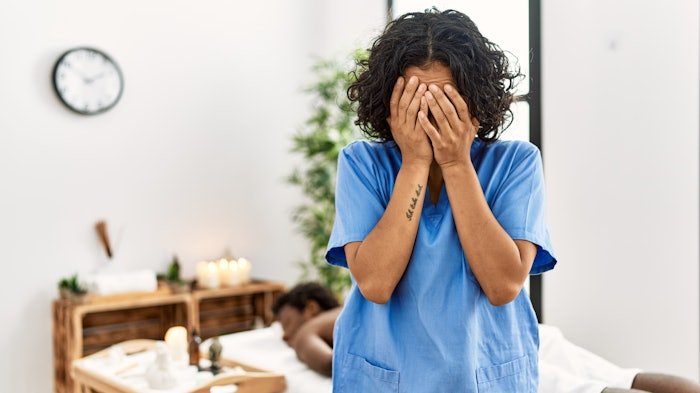 At the 2022 Global Wellness Summit (GWS), ESPA founder Sue Harmsworth, MBE, delivered a keynote called "Spa & Wellness Under Threat," where she discussed four key issues facing the spa industry—and what we can do about them.
1. Confused Consumers
The problem:
Although there is a huge need for spa and wellness, the term "wellness" has become too nebulous. Spas that only offer classic treatments such as massages and facials, but don't offer services like nutrition, acupuncture, naturopathic offerings, etc., aren't really wellness; this is what is confusing consumers.
What we can do:
Spa owners and operators should really think about who their clients are and what they want to deliver.
One example Harmsworth brought up was mental wellness, and how spas must decide what they can do and what they should avoid. Spa and wellness can cope with mild to moderate anxiety, but not cognitive issues and depression.
This is even harder when you have less therapists, but Harmsworth emphasized that if we get it right, we can support health care systems. Spa and wellness can do the prevention, supporting people with nutrition advice, alternative healing methods and, for instance, support while they go through chemo, as a way to fit into and complement health systems.
2. Inexperienced Therapists
The problem:
Harmsworth recalled her experience running a health resort in the 1980s, where she not only had tons of medical and wellness staff, but even the estheticians had some medical training. 
Today, therapists don't train very long, and they go into the world where their guests are very sophisticated and usually have more life experience. Younger therapists who have minimal training and life skills are often unable to deal with some of the problems faced by older guests, including chronic stress, cancer, diabetes, etc. 
For example, said Harmsworth, some functional medicine courses are only 6 months online, and then the person is called a doctor when they may have hands-on experience caring for patients. 
What we can do:
Spa and wellness therapists, especially those just getting started, need practical skills as well as lifestyle skills. "I know what you're going to say—'I haven't got budget ... to train them.' I think you've got to take ownership, to a degree, of training them yourself," said Harmsworth.
She suggested creating short trainings that you can do in house. Think about the life skills that a 19-year-old may be lacking, in terms of treating older people who have lots of knowledge.
On the practical side, a great piece of education for massage therapists and estheticians would be contraindications. Look at the key issues of your main clientele and list out contraindications so that all therapists can recognize them. Make it bite size and easy to remember.
Things like empathy and personality types can also be taught, if you take the time.
3. Climate Change
The problem:
Harmsworth called out the industry's issues with sustainability, specifically in terms of larger builds and their energy costs. "Why are we building massive saunas, steam rooms, hot vitality pools? They're not using that energy correctly—and I'm saying not very often; some are doing it very well. But that's a huge cost," she said. 
What we can do:
Harmsworth highlighted her work with Red Sea Global (RSG), which is working at sustainability from the ground up. The developer creates luxury, regenerative tourism destinations and is currently facilitating sustainable tourism in Saudi Arabia. RSG's mission is to develop properties that enhance the well-being of guests, communities and environments. 
On a smaller scale, spas can also work to incorporate sustainability initiatives, such as reducing waste, conserving energy and working with B-Corp brands that give back. 
4. A Non-Resilient Future
The problem:
Resilience is important, and that has never been more clear, with worldwide anxiety at an all-time high and the devastation of the pandemic. As the industry continues to face a therapist and labor shortage, Harmsworth called for attendees to think outside that box as they look to the future. 
What we can do:
Harmsworth encouraged the spa and wellness industry to think of the children. Specifically, kids and teens should be taught mindfulness, meditation, nutrition and foraging, all of which are great for building resilience.
She then issued attendees a new challenge: "Youths are the future and we want to encourage them into the industry in order for it to grow," she said. Leadership must be brave and fight for wellness. 
Harmsworth closed by telling attendees that we all must walk the talk, worry less about trends and embrace change to keep our industry strong.