A round of blackjack and a facial? These three spas doubled down on their casino connections—and won big.
Here's the thinking: Unless a gambler has an infinite amount of money, eventually he'll go looking for a non-gambling activity—and spa-ing is a good choice. For one thing, most spa treatments address the stress and tension that can result from hours of risking hard- earned dollars while hunched over a card table or slot machine. And for another, spas offer something for everyone, and every couple, too (e.g., she gets the hydrating facial, he gets the hot stone massage).
The bottom line is, planting spas alongside gambling casinos is a winning strategy that provides a convenient respite not only for game players, but for hotel guests and locals as well. For developers, timing is key: The casino is built first and, once it is deemed a worthy revenue-generator, add-ons like spas appear.
DAYSPA spoke to management at three different casino spas to find out how each hit the jackpot with their marketing, treatments and customer service.
The T Spa, Marysville, Washington
The Tulalip Casino opened in 2004 and, subsequently, the Native American Tulalip tribe decided to build a high-quality resort—and a venue that would provide jobs for tribe members. The hotel and the T-Spa opened in 2008. The resort was awarded the AAA Four Diamond rating and has become a premier destination for entertainment in the Pacific Northwest.
When it comes to health rituals and using healing herbs and other products found in their natural environment, Native Americans have a long history to fall back on. The Tulalips saw the spa as the perfect venue to carry on some of their honored customs. Guests who experience the Sacred Plant Ritual (60-90 min./$125-$165) at the T-Spa receive a natural salt scrub before they enter a shower that's soap-less to allow nourishing oils to remain on the skin. This is followed by a massage featuring very fragrant cedar and sweet grass massage oil.
Hot stone and Balinese massages have also found their way into this spa's menu. Explains spa director
Norma Hughes, "Many of our treatments are similar to what spa-goers experience elsewhere, only with Native American flair."
Hughes opts for high-end treatment products, and this is reflected in service prices (a Deep Pore Cleansing Facial runs $75 for 30 minutes, for instance), but she feels the quality of treatment justifies the cost.
The Tulalips are considered a water tribe, so the spa features a contemporary Native American design that enables guests to meander through winding hallways lined with river rock to reach their destinations. T-Spa's 16 treatment rooms include a VIP/couple's suite, complete with fireplace and shower. The suite can be rented for six hours' worth of treatments, plus lunch, for $1,000.
How they get play: The Tulalip Casino promotes T-Spa to its guests via the casino's rewards club, which allows visitors to earn a point for every dollar of slot machine play. Points at the Tulalip Casino can be redeemed for meals, hotel suites—and spa services. Most of the area's locals belong to the rewards club.
But the spa doesn't rely solely on the casino for its business. T-Spa regularly exhibits at trade shows (particularly bridal trade shows), advertises on TV and on billboards, and schedules "familiarization" trips for folks in the travel industry.
"Most of our clientele are 40+-year-old women," says Hughes. "For many of them, the spa has become a special occasion place to celebrate."
The warmth of the Tulalip tribe is reflected in the treatment of spa guests. All staff members are willing and able to answer questions, and no guests are ever rushed. An attendant is available in the locker room at all times. Front desk personnel take time to help guests with treatment and amenity choices, too.
"With our regulars, we often suggest different services they might enjoy," says Hughes. "We try to get to a 'yes' for all our guests."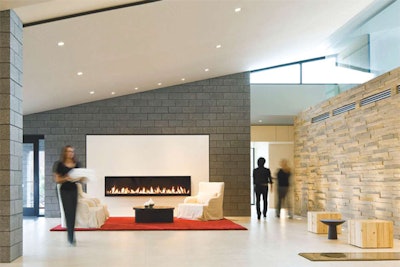 Spa Ssakwa'q'n, Worley, Idaho
First came the Coeur d'Alene Casino in 1993. Then, once they were convinced that their business was well established, the Coeur d'Alene (CDA) Tribe of Native Americans decided to launch an $80 million dollar expansion that included a hotel, new restaurants and the spa. The entire venture opened in May of 2011.
Taking guests from nature to nurture reigns supreme at this facility. Located in the midst of Palouse country, its rustic elegance and plentiful touches of sage, copper and cedar are all designed to make visitors feel comfy and cozy. Grays and browns predominate and mingle with all the natural sunlight that drenches the spa. Inside the treatment rooms, local ingredients like sweet cherry, lupine and sweet grass complement the nature-to-nurture theme.
Treatments at Spa Ssakwa'q'n run the gamut from massages to body treatments to facials to nails, and include a wide variety of men's services—often focused on treatments that relate to golf. "We knew we would see many male golfers so we've made the facility gender-neutral," says Heydon. "Even our robes are chocolate brown."
One of the spa's most popular treatments, a Mountain Rain Shower Scrub and Wrap (60-90 min./$85- $135), has "man" written all over it. A rich mud scrub, consisting of finely ground coffee beans, sarsaparilla, volcanic pumice and black silt clay, is applied to gently exfoliate the skin and remove impurities. A "rain shower" (Vichy) follows, to melt away stress and stimulate circulation. A silky shea butter application completes the treatment.
How they get play: Spa director Kelleye Heydon says, "We've started using Facebook a great deal as a marketing strategy, and have gotten a lot of traction from it."
For one contest, dubbed 12 Days of Spa, a daily question—"What is your favorite spa treatment?", for example—was posed on the spa's Facebook page. Those who answered each daily question posed had the opportunity to win a $100 spa credit.
Spa Ssakwa'q'n advertises in the local newspaper, and on TV and radio, and also markets to regular customers via mail and email. The spa also puts on special events for casino players and makes them offers they can't resist to temporarily lure them away from the gaming tables.
Once those guests come through the door, the spa's hospitality takes over. "We make our clients feel at ease by showing them the entire facility and truly taking care of them," says Heydon. "We also remember their names, and tidbits about their families, so they always feel welcome."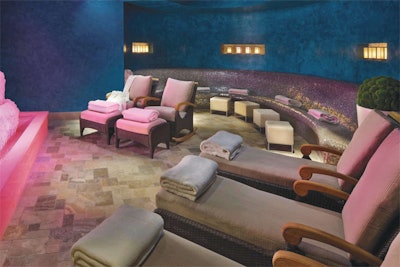 Atlantis Casino Resort Spa, Reno, Nevada
As you might imagine, casinos in Reno try hard to out- do one another. That also holds true for casino spas. So when the Atlantis took on a $100 million expansion in 2007, it was decided that the spa would have to offer a unique combination of amenities that guests couldn't find anywhere else. Mission accomplished: For the past three years (2010-2012), Atlantis Casino Resort Spa has won SpaFinder's Reader's Choice Award.
A good three years of research went into creating this unique spa experience. "We went to trade shows, talked to spa experts and traveled to other spas to decide what we wanted in our spa," says Kimberlee Tolkien, executive director of administration. "We were looking for the ultimate wellness experience."
Guests can hit the Atlantis Spa's unique Aqua Lounge to relax aching muscles and invigorate their bodies. The heated Laconium Relaxation Lounge helps to stimulate circulation and purify and detoxify the body, and the Brine Inhalation-Light Therapy Lounge combines salt aerosols and chromatherapy to improve the respiratory system and stimulate the senses.
In the tea lounges, guests are encouraged to sample infused waters, each of which targets a specific area of the body: citrus is intended to facilitate muscle recovery, for instance, and cinnamon-kiwi is for clearing the respiratory system. Take-home recipe cards have been placed alongside each water receptacle so guests can recreate their favorite water at home, too.
In the treatment room, the Cleopatra Milk and Honey Cocoon (50 min./$135) ranks high among the spa's unique treatments. After a full-body exfoliation, the client is moved to a soft-pack (floating) bed, where warm milk and honey are applied to her skin as the ten- sion leaves her body. As the wrap does its job to deeply moisturize the skin, a head massage is performed.
"We don't want our guests to have to think once they arrive," says Tolkien. "It should be a Zen experience from when they step through the doors until they depart." Every staff member is very pleasant and calm. How they get play: All manner of advertising is used to promote the Atlantis spa. This includes an active direct mail program, emails, social media and outdoor bill- boards. The spa also enjoys very healthy word-of-mouth endorsement, as well as plenty of repeat business. Although hotel guests have access to the spa, locals comprise a good portion of its clientele, says Tolkien, and also benefit from a 15% service discount Monday through Thursday.
"We like to think that we're more than a spa," says Tolkien."When you leave here, you feel as though you've had a mini vacation."
– By Heather Larson