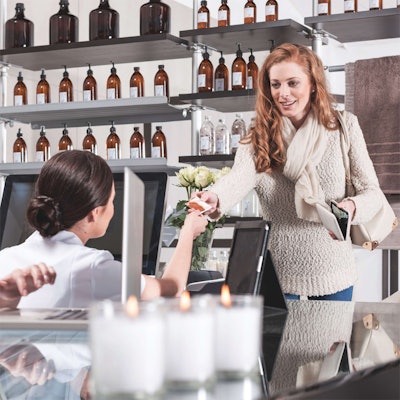 It's not just cash or card anymore—learn about the payment industry.
When it comes to payment, plastic is still king. The use of cash for transactions continues to dwindle: A 2014 study of more than 1,000 consumers by credit card issuing and processing company TSYS revealed that only 9% paid with cash, with 35% preferring credit cards and over 40% debit cards.
Plastic has been a constant in purchasing goods and services for so long that many business owners don't give the whole process much thought. But maybe they should: That simple swipe of a credit card in a terminal unleashes a complex set of transactions that involve multiple companies, all of which expect to turn a profit. If business owners break down the fees they're being charged, they may be in for an unpleas- ant surprise.
The payment industry is an area where advances in technology are playing an increasingly important role, and many new options are becoming available for both consumers and businesses. In some instances, a little extra training for support staff is required up front, but beyond that, most of the legwork is behind- the-scenes research and setup, and won't slow down daily business operations.
To help you figure out your options, DAYSPA sought to analyze the current non-cash payments landscape. Essentially, there are three ways to make and complete transactions: via credit card processors, banking alter- natives and payment alternatives. Below, we've laid out what you need to know about each.
Credit Card Processors
Businesses that interact directly with consumers, including spas, are considered Level 1 merchants, which carry the highest risk level for credit card issuers. This contributes to the additional fees that businesses pay, often up to 5% of the value of a transaction. However, you may not be aware how many companies are taking part in that process and taking a piece of the pie.
Common fees include:
• Interchange Fee: paid by a payment processing company to the card-issuing bank; fees vary based on card type and the transaction size and number
• Monthly Gateway Access: a monthly minimum fee charged by some processors to access their payment gateway
• Application and Setup Fees: vary by company and the equipment they require
• Monthly Fees: can include minimums and statement fees
Many new companies are making payment processing more transparent and simpler to use. Below are some prime examples.
Fattmerchant, short for Fast Affordable Transaction Technology, was founded in 2014 and has pioneered a new model for transaction processing, aiming to make it understandable and affordable. The company charges a monthly fee (from $69 to $99) and provides full reporting capabilities and disclosure for member merchants. Its website also offers a comparison tool for prospective clients to see how much money they might save.
Upon its debut in 2009, Square seemed almost radical: Business owners could complete transactions with the simple swipe of a credit card on a mobile device! Square was one of the first companies to allow businesses to accept payments via smartphones without monthly fees, and as a result it grew quickly. Square has an intuitive user interface and offers multiple web-based support tools for small businesses—including inventory management, business analytics and customer management. Square charges a flat rate of 2.75%, and there's no per-transaction or monthly fee; however, business owners can end up paying more for individual transactions than some other processors, and they also need to use Square's processing company.
ShopKeep is another POS option that's ideal for small businesses. The system is designed to run only on Apple's iOS platform, but for a monthly fee of $59 per register it can handle many of the same tasks as Square. Pros include 24/7 support and your choice of payment processor. The program also utilizes a unique setup that's a hybrid of cloud and locally installed software; the app runs locally but syncs data to the cloud when there's an internet connection. If there's an internet outage, you can continue to run credit cards, and it stores them until the web connection is back up.
 Additional Credit Card Processors
The best-known player in this arena is Ebay's PayPal, which facilitates payments between parties online, where users connect their PayPal accounts to their bank accounts or debit/credit cards. The company, founded in 1998, has grown beyond its initial function and now serves as a capable business resource too. For instance, PayPal offers an online payment processing portal, where businesses can take payments from customers via credit or debit card and deposit those funds into their PayPal account, as well as accepting payments from other individual PayPal ac- counts. The company currently charges a $30 monthly fee, plus 2.9% and $0.30 per transaction, and funds become available almost immediately. If you're doing business such as e-commerce outside the U.S., PayPal can also process credit and debit card payments in six currencies, and PayPal payments in 23 currencies. Funds can be transferred to your regular banking accounts, or stored with PayPal and used to make purchases from vendors who also use the service.
Another company gaining traction in this space is Stripe, which offers many of the same services as PayPal, with the same fee structure. PayPal does provide volume discounts that make it slightly cheaper when a business processes more than $5k per month, and the company also releases funds into user's ac- counts in approximately 24 hours, whereas Stripe can take up to seven days. However, Stripe does offer additional features such as PCI compliance and data portability.
Mobile Payments
Applications that enable consumers to pay for services via mobile devices were consigned to a niche market just a few years ago, but thanks to the smartphone boom mobile payment is a growing sector. With the trend on the rise, there's now a wide variety of applications for use on both Apple and Android devices, some of which are well suited for spas despite being meant for mainstream use. These include (but aren't limited to) Google Wallet, Apple Pay, Samsung Pay and Android Pay. Accepting these forms of payment generally requires having a Near Field Communications (NFC) terminal, which your processor or bank can provide. Using these apps can be both faster and more secure, as you're not actually receiving clients' credit card information.
Despite the options available, consumer mobile payment adoption rates are lower than expected. A survey by Accenture in 2015 revealed that although consumer aware- ness is growing, usage is lagging behind. "Consumers do know that they can make payments through their phones, but continued use of existing payment methods—such as credit cards and cash—and the slow retail adoption of modern card readers have caused usage levels to remain stagnant over the last year," says Robert Flynn, managing director for Accenture Payment Services in North America. However, that doesn't mean you should ignore this arena: Payment apps are very popular among millennials, so if your spa business caters heavily to this younger crowd, you'll want to make sure you're ready to implement.
As you can see, this is a complex topic, with many options on the table. Depending on the number of credit card transactions your spa performs, it may make sense to spend some time researching your options. Even saving a small percentage adds up over the long run: A business processing $400k in credit card transactions per year that can save 1.5% on fees will add $6k to profits. And that, we think, is worth paying attention to.