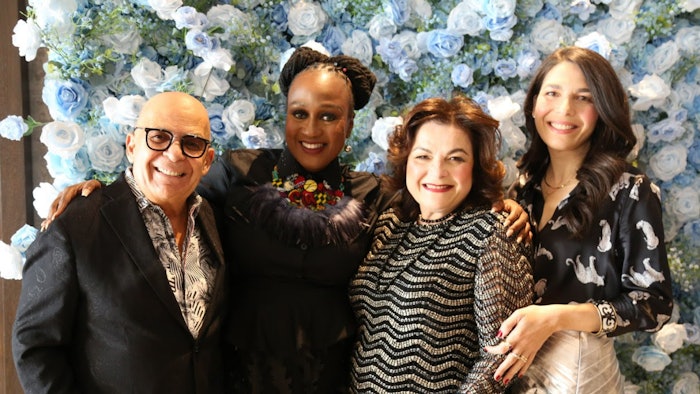 Photo courtesy of Repêchage
Repêchage gathered beauty and wellness leaders for its International "Day of Empowerment" Wellness and Beauty Conference on Dec. 5, 2022, at the EnVue Hotel in Weehawken, New Jersey. 
The event offered inspiration, education, business development and networking for industry professionals. Presentations by international business leaders—including media, spa owners and managers, estheticians and medical esthetics professionals—provided key tools for attendees to advance their leadership, innovation, education and business growth. 
Related: Repêchage Introduces Vita Cura Cellusea Bath and Body Collection
Lydia Sarfati, founder and CEO of Repêchage, kicked off the Day of Empowerment with her presentation about empowering excellence and inspiring staff members. The next presentation was hosted by Louise Loughlin, owner of Iguazu Beauty and Oncology Training International Educator, on the importance of customized approaches when performing oncology esthetics. 
Attendees then tuned into a presentation by Dzigbordi K. Dosoo, founder and CEO of Dzigbordi Consulting Group. Dosoo shared inspiration and the three pillars to fulfillment and success, which included relationships, difference and action. Education continued with a presentation by Natalya Fazylova on "New Trends in Microneedling Utilizing Chemical Peels," followed by a demonstration of the Repêchage Hydra 4 Red-Out Facial.
The day concluded with a champagne reception and toasts from Sarfati, who noted that this was the first major in-person event the company has hosted since the pandemic. The event was then followed by two advanced education courses at the Lydia Sarfati Post Graduation Skin Care Academy in Secaucus, New Jersey. 
The courses included the Essential Facial Massage Techniques for Total Rejuvenation with Manual Lymphatic Draining Massage Science and Theory on Dec. 6, 2022, and a Post-Conference Medi-Esthetics Workshop on Dermaplaning with Fazylova on Dec. 7. 
"Right now, there is the potential for unprecedented growth in the beauty and wellness industry," says Sarfati. "The purpose of this one day event was to provide the esthetics community with the very leading experts from the most prestigious outlets in media, spa, medical and wellness to provide mentorship, inspiration and real actionable tools to empower them to make life-changing choices to actualize fulfillment and success."