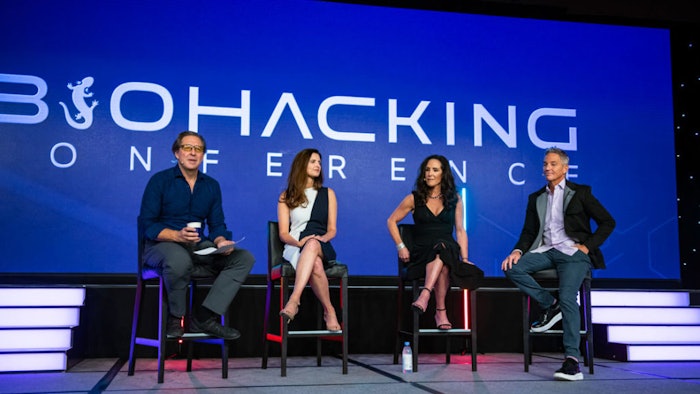 The 8th nnnual Biohacking Conference will return in person on Sept. 15-17, 2022, for an immersive three-day  experience at The Beverly Hilton in Los Angeles. The Biohacking Conference will host presentations by leading experts in health, longevity, consciousness, performance and more for thousands of health and wellness seekers around the world. 
Attendees will test cutting-edge technologies from more than 100 exhibiting companies. They can improve brain cognition and performance with BrainTap, maximize their cardio with an AI-powered CAROL Bike, explore supplement innovations with BiOptimizers, and explore neurofeedback with 40 Years of Zen—and more.
Keynote speakers and featured presenters will include: Dave Asprey, Dr. Steven Gundry, Jim Kwik, Dr. Will Cole, Dr. Harry Adelson, Charlie Engle, Naveen Jain, Dr. Patrick Porter, Dr. Caroline Leaf, Vishen Lakhiani and many others. In addition, the event will include breakout sessions with expert panelists, inspirational speakers and educators such as award-winning yogi Katie Silcox and podcaster Dr. Stephanie Estima. They will cover topics from Ayurvedic wisdom, nutrition, brain fitness, sex and relationships, and much more.
All attendees will be treated to healthy, gourmet lunches, morning workouts, and biohacking samples and gear to take home. The event is hosted by biohacker and entrepreneur Dave Asprey and Upgrade Labs, the world's first Human Upgrade Center. This year's theme is centered on feeling unstoppable, and the speakers and exhibiting partners will provide attendees with the tools and skills needed to get there. 
"The most important thing you can do is to know you are in charge of your own biology," says Asprey. "Over the past 10 years, the Biohacking Conference has built a powerful movement, provided community and actionable information, and always supported the most innovative companies in the world."