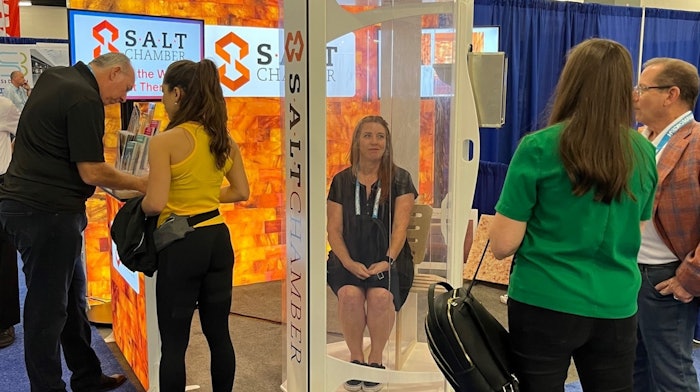 Courtesy of SALT Chamber
SALT Chamber celebrated its 10-year anniversary by introducing salt therapy to the fitness industry last month. SALT Chamber exhibited the SALT Booth at IHRSA 2022, which took place on June 23 and 24. The SALT Booth combines salt, color and sound therapy.  
At the show, SALT Chamber discovered that athletes and fitness/health club members are looking for training methods that improve their breathing patterns, increase their lung capacity and shorten recovery time. As such, athletes are turning to dry salt therapy to gain an edge over competition and achieve their best sports performance. (When athletes focus on their breathing, less breath is required and is therefore reserved to achieve superior performance.)
The multi-purpose salt therapy concept attracted collaborations from fitness facilities including NexGen Fitness, Fahrenheit Body Spas, New Leaf Fitness and Spa, Avenue X Fitness and Focused Fitness. The locations will work with the company to create effective salt therapy rooms, while others have added the plug-and-play SALT Booths. 
"While salt rooms and SALT Booths have been a prominent service offered by resort and destination spas, medspas, country clubs and yoga centers for over a decade, health and fitness clubs are now 'getting salted'," says SALT Chamber founder and CEO, Leo Tonkin. "Instituting dry salt therapy at your fitness club or wellness center for sports training can lead to better lung function and improve the overall performance, endurance and recovery of your members, while offering an additional revenue stream that attracts new members." 
Salt therapy also complements other wellness modalities such as yoga, massage, sauna, cryotherapy, float therapy, IV therapy and more.