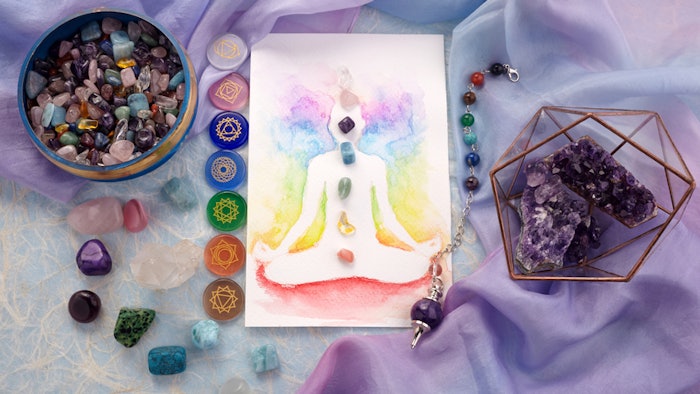 Crystal healing treatments must be customized by nature, as you are working to balance each individual client's energy and chakras. Find out how to make your crystal treatments as impactful as possible at Face & Body Northern California, where award-winning holistic esthetician Linda Bertaut will educate attendees in her session, "Customizing Crystal Healing Treatments," taking place on Aug. 22, 2022. 
"Performing crystal healing treatments is an energetic dance between your client's energy and that of your gemstones," says Bertaut, adding that using the wrong stones can even go so far as to create discomfort and disrupt your client's energy.
In this session, Bertaut will teach you how to "get in the flow" and create tailored treatments that benefit guests for days. She'll perform a live crystal healing demonstration, including techniques for safely choosing and placing stones on the face and body, and teach attendees about:
Choosing a healing stone collection
Reading the energy of the chakras
Gemstone contraindications
A session that will benefit seasoned holistic healers or those just getting into energy work, "Customizing Crystal Healing Treatments" is not to be missed. Register today!
Face & Body Northern California takes place in San Jose on Aug. 21-22, 2022. 
Chakralicious founder Linda Bertaut is a pioneer in the industry. She brought reiki and energy healing to esthetics more than 20 years ago, and she is now a Milady author, national speaker, award-winning holistic esthetician and reiki master teacher. Bertaut is the healer's healer, teaching others how to embrace and utilize their healing abilities in their life and business. She created the Energy Make-Over and Gemstone Treatments to initiate balance that results in more meaning and purpose in life.