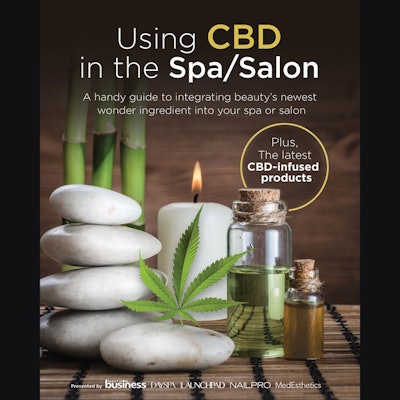 Everything you need to know to help your customers and improve your bottom line.
If you've glanced online at spa products lately, you've probably noticed the word CBD in, well, everything.
CBD is such a craze that you can't find a lip balm or chocolate bar or a face wash that's not touting the benefits of CBD oil. But, there's actually good reason for that—CBD is loaded with amino acids, antioxidants, vitamins and essential fatty acids. It possesses anti-inflammatory, sebum-sequestering and pain-relieving properties, too.
Yet, there's a tremendous amount of confusion surrounding CBD. As a spa, salon or beauty retail storeowner, you likely have questions: What is CBD? What is CBD oil? What are the benefits of CBD? Is CBD legal? Is CBD a drug? Is CBD mind-altering?
To answer your questions and more, we've created a FREE EBOOK on using CBD oils in the spa/salon. It will educate you about CBD, its benefits, the legalities and perhaps most important–how you can use it to help your customers and increase your bottom line. It also contains a product guide featuring more than 40 reputable brands for salons, spas and beauty retailers–covering virtually every beauty segment from hair care and men's grooming to personal care, skin care, nail care and wellness.
Get a clearer understanding of CBD by downloading your free eBook now!