Premiere Orlando
brought together all things professional beauty under one roof at the Orange County Convention Center, June 1-3, 2019. Premiere gave 60,213 beauty professionals from all 50 states and countries worldwide, many reasons to stay in love with the industry! Premiere Orlando offered the education and tools you need to succeed during the action packed 3-day event.
As beauty professionals walked across the 7.3 acre exhibit floor they were greeted by some of the biggest names in the salon, spa and barber industry with over 850 exhibitors. Attendees were able to renew their passion about the industry they love through the high energy of Premiere Orlando with companies such as RUSK, Farouk, JOICO, Matrix, Redken 5th Avenue NYC, American Crew, Pureology, Amika, Reuzel, BabylissPro, Aquage, Brazilian Professionals, Sally Beauty and Ulta Beauty hosting live demonstrations, product launches and celebrity artists at nearly every corner throughout the day on Sunday & Monday. In the Nail World section, nail artists were able to get the latest high fashion trends from brands like CND, Young Nails, LeChat, Voesh New York, Nail Labo, KUPA Incorporated, Gelish, Joya Mia and Light Elegence just to name a few as well as the calming atmosphere that you can only get when you're in the nail salon. Continue through the show and enter the realm of Premiere DAYSPA. This section of the show floor was an educational playground for estheticians, massage therapists and makeup artists with companies such as Satin Smooth, Eminence, GlyMed Plus, Revitalash, Farm House Fresh, Evalash Beauty, Morphe, Pinnacle Cosmetics, Footlogix, Eva's Esthetics and Repechage offering the latest products, equipment and treatments to improve their skills and business.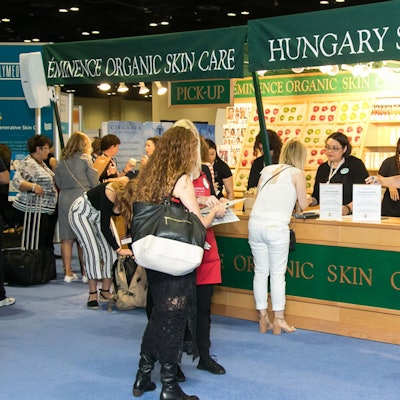 Shopping the exhibit floor may be enough of a reason to attend Premiere Orlando annually, but what makes all Premiere Shows stand out is their promise to bring the education you need to succeed to their events. This year was no exception offering more than 650 classes during the 3 days of non-stop education.
Beauty professionals came from all over to join Lala Chihaia in saying "I Do" to innovative bridal techniques and left feeling more confident in their updo abilities. The inspirational Chrystofer Benson made his first debut on Main Stage with his CBC Creative and Collaboration teams as they merged a visual artistic presentation with reality to showcase strong techniques in color, cutting and styling. Attendees were also able to learn the latest in industry and style trends from some of the biggest names: Jamie Wiley, Ashley Hofstrand, Michelle Patton & Emily Aldress – Pureology, Sam Villa, Chris Baran, Lori Zabel & Justin Isaac –Redken 5th Avenue NYC, Pulp Riot Artistic Team, Larisa Love, Richard Mannah, Ricardo Santiago & Cherry Petenbrink – JOICO, Phoenix Thomson, Paul Wilson & Mike Sharkey – American Crew, Stephanie Brinkerhoff & Cassie Siskovic – Kenra, Sofie Pok, Carlos Estrella, Joshua Hawkins & Frank Soto – Barberology, the ULTA Beauty Pro Team and everyone's favorite #hairbestie – Guy Tang.
This year Premiere Orlando collaborated with Mark Bustos and FACT, Foster Adoptive Caregiver Team, Inc (a 501c3 organization) to give back and provide free haircuts to local Central Florida foster kids and their families. Premiere Orlando met their goal and was able to provide more than 180 individuals with the experience of a pop-up high-end salon to receive haircuts by some of the finest stylists and barbers like Keon Washington, Sascha Breuer, Terrence Manning, Nikki Trowbridge and more.
Upcoming shows from Premiere Show Group;  Premiere Philadelphia (September 15-16, 2019), Premiere Columbus (October 6-7, 2019), and Premiere Birmingham (October 20-21, 2019).
As the largest beauty industry tradeshow in the country,