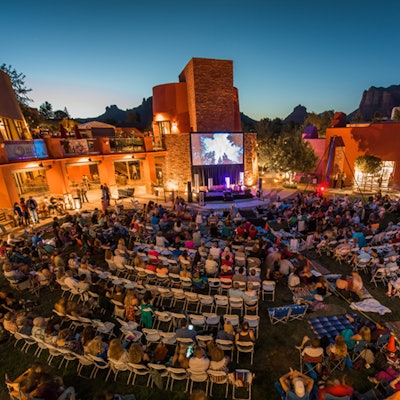 Spa clients – whether they are anti-aging enthusiasts, beauty fanatics or wellness obsessed – are usually people who have a genuine, vested interest in health and wellness. With a pre-existing audience keen to learn more about the subject and the personal benefits, spas are an ideal venue to showcase the film industry's more meaningful work.
People want to be entertained and engaged while they are being informed. That is the magic of media publicity and social media. When you unwind by flipping through a magazine or Twitter, you are actually learning. Certain films, too, can teach and open our eyes about issues as well as brands.
"Conscious films are life-affirming cinematic works about mindfulness, wellness, spiritual practice, mind-body science, organic and plant-based food movements, sustainable living and most importantly, the human journey," explains Danette Wolpert, the Executive Director of Illuminate, a Film Festival in Sedona, Arizona that brings together the best in conscious cinema exposing inquisitive people to information that makes a difference.
That's exactly what spas are trying to achieve. Conscious filmmaking is where blogging was 10 years ago. What appears to be a lone voice can influence many. Even book publishers are turning to film producers because video has more impact.
Documentary style films aren't known for being profitable. They are known for giving back. "Everyone should have a marketing strategy," said Geralyn Dreyfus Utah Film co-founder and Impact founder. A good conscious film requires artist merit, commercial viability and distribution that will make a difference. Film makers are looking for brands to partner with. Spas, or the brands you use, can have a symbiotic relationship with films that are the most relevant for your image, your clients and you.
Cancer and menopause were hot conscious film topics this year – the same topics that concern your average spa-goer looking to take better care of their bodies.
How can spas use conscious films to leverage their business?
Investors, distributors and film makers are looking to bring new ideas into global consciousness. Spas can contribute to these films by sponsoring them, becoming subjects for them, and showing them in private screenings.
The C Word, one of the most talked about conscious films at Illuminate, had all the assets to take a message viral. A message that many spas are trying to address themselves. Directed by cancer survivor, Meghan O'Hara – who also produced Fahrenheit 9/11 and Bowling for Columbine – and narrated by Morgan Freeman, this film shows us how we can beat cancer before it beats us. The odds are high with 70 percent of deaths from cancer being preventable, people just need to know more.
Films like The C-Word, Vegan: Every Day Stories and Love, Sweat and Tears (a film that smashed the menopause taboo), are all opportunities for spas to help raise awareness for the solutions as much as the issues.
That's what marketing is all about. Talking about what people are hearing.
"Unlike journalism, conscious film allows for a more creative process," said Norman Seeff, a filmmaker and photographer for Martin Scorsese, Steve Jobs and other prolific artists.
Cathy S. Cluff, President & CEO of The Oaks at Ojai, would consider showing conscious films as long as the film is not too one-sided. "The Oaks is about education and wellness, so we do care about conscious films with a broad perspective on wellness." Cluff suggests being mindful of not promoting one philosophy over another that may not be in line with your overall mission or with your guest's beliefs. "For example, you shouldn't show a film about the chicken industry if you serve chicken on the menu," says Cluff.
Here is how spas can get more involved:
Hosting – Use your spa as a theater to attract new customers and engage those you have.
Sponsoring – Show your support of a topic by helping to fund a film, spa-goers like to vote with their dollars.
Making – Look inside your spa for a story to tell to determine if you have the makings of a film itself.
Marketing – Are any of the products, services or people you work with featured in films? You can leverage this to promote your spa in traditional and social media.
Monetizing – Like with any publicity and buzz, being a part of a film in any capacity raises awareness, credibility and recognition.
"You have a captured audience when people are watching a film – use it," said Julia Sutton, COO at Exhale. Sutton suggests keeping screenings intimate and showcasing treatments during the filming. For example you can tape accupuncture seeds on viewers wrists or behind their ears if you want to demonstrate the benefits of accupuncture or have them watch with their hands in moisture in special mitts, the possibilities are endless. "Vendors would love to sponsor screenings." It also generates great content. "We're always looking for content we can share digitally," said Sutton.
Conscious cinema is emerging as a genre. The film industry is starting to embrace conscious cinema and realize its value. Distributors are moving into the space and taking chances on new film titles. Box office numbers are climbing, and audiences are adopting new practices and new ways of living and being.
Together, we are pioneering a movement.
Spas are renowned for making people healthier and through deeper relaxation and effective treatments. Now they can become a center for expanded learning through deeper knowledge. When you know better, you do better.
– By The Trent Trend Spotter, Nancy Trent