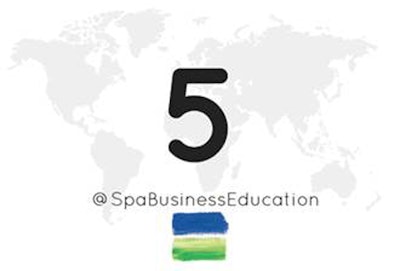 Spa Business Education, the global online education training provider which is part of the Raison d'Etre group, is celebrating its five year anniversary by discovering the top five most sought-after managerial skills in the spa and wellness industry. Spa Business Education is asking those working in the industry to share the top five areas of work they'd like to improve on, for the chance to win one of five Spa Business Education independent training courses with one additional grand prize available to win.
Aiming to upskill the industry with specialist online courses designed to fit around students' lifestyles, Spa Business Education is marking five extremely successful years of teaching by giving away over$2000 worth of educational courses and compiling the industry's 'Top Five Managerial Skills'.
Five lucky winners will be given the chance to embark on one of Spa Business Education's independent training courses which deliver targeted, specific skills necessary for the spa industry. The five courses cover: Spa Finance, Spa Marketing/PR and Social Media, Leadership, Group Dynamics & Conflict Management and Strategic Human Capital Management.
One lucky entrant will receive the grand prize: a $500 scholarship for Spa Business Education's most popular course, the Spa Management Online Program. The seven module, four month course provides students with a complete framework for spa management roles and the flexibility to learn in their own time and space.
To win, Spa Business Education is asking social media users to submit the top five skills they'd like to develop with a Spa Business Education course. By liking the Spa Business Education Facebook page and commenting with the top five spa management skills they'd like to develop, social media users will be entered into the prize draw and selected to win the courses. Running from Monday 13th November – Friday 29th December 2017, the competition hopes to attract entries from spa managers and therapists around the world.
The most recurrent answers from entrants will be compiled into Spa Business Education's guide to the top five skills sought-after in the industry.