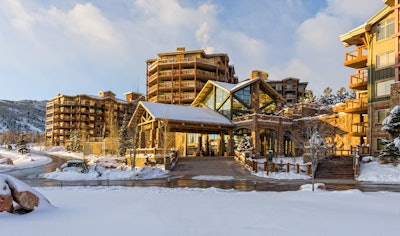 Name:
Westgate Park City Resort & Spa
Location:
Utah
The Lowdown:
The Westgate Park City Resort & Spa has partnered with local medical center Utah Stem Cells Clinic to bring new stem cell treatments to its spa. Located at the base of Canyons Village at Park City Mountain, the resort offers a variety of on-site amenities including ski-in/ski-out access to Park City's 7,300 skiable acres, complimentary ski valet services, Utah's largest indoor/outdoor pool, multiple eateries and the award-winning Serenity Spa.
Standout Features:
Serenity Spa houses 14 treatment rooms and a waterfall hydrotherapy pool over 30,000 square feet. Signature services are "designed to instill deep, soulful relaxation" through customized experiences. Guests seeking stem cell joint regeneration, stem cell aesthetics and stem cell therapeutic treatments are drawn to offerings such as the new Vampire Facial (90 min./$1,985), performed by William Cimikoski, MD, medical director of Utah Stem Cells Clinic. According to Cimikoski, "the treatment extracts platelet-rich plasma from the client's blood, then uses the plasma to repair the skin from scars, stretch marks and hyperpigmentation." Also on the menu: massages, body treatments and kids' mani/pedis such as Fancy Fingers and Twinkle Toes (both 25 min./$40).
—Sarah Reyes