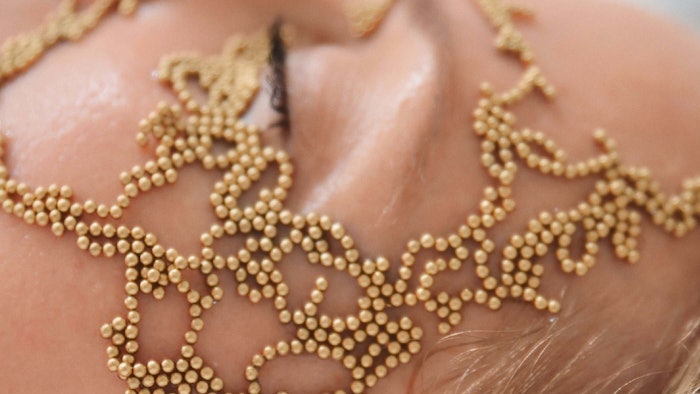 Photo courtesy of The Langham Chicago's Chuan Spa
Looking for a non-invasive, natural alternative to cosmetic procedures that provides Botox-like effects? The Langham Chicago's Chuan Spa has the new go-to treatment option: the Qi Beauty Facial. This unique service applies small magnets to the face to tighten, brighten, detoxify and sculpt the skin. The magnets go from a bronze to a darker grey after applied to the skin, as the minerals and properties penetrate deeper into the face. 
So, you can imagine my excitement when I was invited to receive this innovative service myself. Below is my unforgettable treatment experience. 
As I walked through the doors, I was immediately transported from the bustling city to an escape of pure relaxation. Instead of harsh sunlight, I was greeted with muted lighting, calming music and a scent of calming lavender and soothing chamomile. As I walked through the long, beautiful hallway, all my worries melted away and I fully immersed myself in this city sanctuary. 
Before my treatment, I snuck away to explore the destination spa, along with its many amenities. I first visited the locker room to change into my luxurious robe and comfortable slippers. I couldn't leave this space before I checked out the Oriental steam room and Eucalyptus and Himalayan salt stone saunas.
I then made my way over to the pool and hydrotherapy hot tub. Upon entering, the beauty of the space instantly met my eyes, with ceiling lights that resemble a starry night, and a gorgeous view of the city. After, I settled into their serene spa lounge and got in the relaxation mindset before my treatment. Kelly, the esthetician who performed my facial, greeted me and walked me through the space to my treatment room. 
My facial began with a double cleanse of my skin, and a deeply relaxing facial massage. My facial muscles may have been stimulated, but I had never felt more calm. Kelly then applied a warmed, lavender scented towel over my face, wrapping me in a soothing cocoon. Next, a cooling aloe gel was applied to the parts of my face where the magnets would soon be placed. 
Related: Energy Work Rebalances the Body & Supports Natural Healing
Kelly began to apply the Qi facial magnets, piece by piece over my skin. I wasn't sure what to expect when the magnets made contact with my skin, but it was almost sensationalness. There was no feeling of irritation, and instead I was met with a light, cooling sensation. The application also almost acted as a sort of ASMR therapy. It was extremely calming to listen to the placement of the beads. 
After the magnets were fully applied, she placed a cover over my eyes to drown out the light and began a heavenly 25 minute arm, neck and chest massage. I may or may not have fallen into a light slumber during this process. I was awoken to a warm towel compressed over my face and neck. 
Kelly gently removed the magnets section by section, with the therapeutic affects of  ASMR still present. Once the magnets were removed, nourishing products were applied including a serum, moisturizer and sun protection. My skin immediately felt tightened, buzzing and new. 
My facial treatment came to a close, and Kelly directed me back to the spa lounge where I sipped on lemon and lime infused water. I took a peaceful moment to rehydrate and enjoy an array of small snacks, while I listened to the sound of the rainfall fountains. I left Chaun Spa feeling internally and externally refreshed, ready to take on the day with a renewed sense of well-being.