If you have been waiting for the perfect innovative skin therapy system that brings your clients real results and real joy, this is the perfect opportunity for you! Look no further than skin's favorite: Zemits HydroLuxx Oxygen Facial.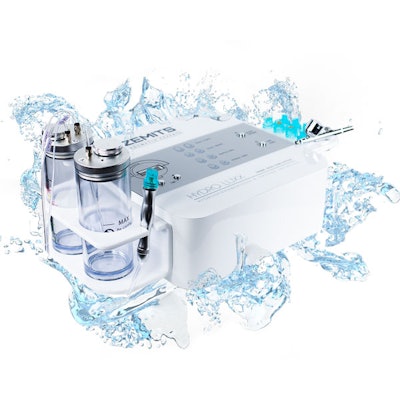 Zemits Hydroluxx is an advanced technology revolutionizing the standard facial by offering:
Gentle skin peeling with a hydro-solution treatment
Vacuum massage and lymphatic drainage
Extraction of damaged skin cells
Oxygen infusion to boost the absorption of nutrients and accelerate hydration
No binding to any specific facial serum or product, giving you unlimited options
ZERO downtime, so clients can get treatments during lunch and get back to their busy day
What Is HydroLuxx Facial Treatment?
The HydroLuxx Facial is a unique noninvasive treatment that combines deep skin cleansing, gentle exfoliation and oxygen rejuvenation suitable for all skin types. The majority of clients notice an instant glowing and refreshing result. The process of hydrodermabrasion is simultaneous rather than consecutive, and can be performed as a stand-alone treatment or accompanied by something else. The abrasive pneumatic chamber located on the tip immediately exfoliates the dry dead skin cells, while pneumatic suction delivers the hydro-serum into the skin, infusing it with ingredients based on the client's needs. This advanced technology optimizes the entire treatment by concurrently stimulating blood circulation and lymphatic flow. Additionally, deep cleansing and rejuvenation can be achieved with the peeling serum as the abrasive surface tip simultaneously provides mechanical exfoliation and extractions. The result? Smooth, glowing and rejuvenated skin.
The HydroLuxx Oxygen Facial is a comfortable and relaxing treatment that uses a unique hydro-wand to exfoliate dead skin cells and deliver treatment serum simultaneously, featuring special tips to extract T-zone blackheads. Soothing and refreshing oxygen infusion feels like a light breeze and leaves skin looking brighter and more radiant. Oxygen infusion is the splendid final touch to the HydroLuxx Facial. Once finished with the hydrodermabrasion, the oxygen infusion system provides immense hydration and restoration. Any residing irritation or redness will be eliminated. Additional benefits include an increased youthful appearance, smooth skin and accelerated hydration for a brighter complexion.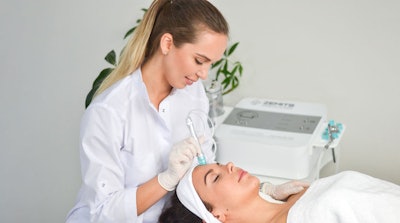 Why Do You Need the HydroLuxx System?
Most equipment on the market is sold with a one-year warranty, but Zemits offers a 30-month warranty and lifetime client support. You also receive detailed users manuals and treatment protocols.
Our licensed estheticians also provide free personalized Zemits HydroLuxx training to ensure quality of service and many repeat customers. Training can be completed in person or via video chat, so your estheticians gain access to the knowledge they need regardless of location.
Realize a bigger return on investment (ROI), as Zemits HydroLuxx allows you to invest less financially with interest-free, in-house financing. This provides a great opportunity for your business to start generating profits immediately with this popular facial service.
Cutting-Edge Technology
Hydrodermabrasion is the latest innovation currently trending in the skincare industry. This amazing treatment effectively removes dead skin without the pain and irritation associated with traditional microdermabrasion. The new technology additionally combines serums and oxygen to effortlessly exfoliate and reveal a healthier more radiant texture.
The Zemits Hydro Luxx has a unique set of non-disposable tips:
Dual Forte & Dual Sense Tips (recommended for oily/pigmented/mature skin). Two large hydro-diamond tips. Abrasive, double-action technology deeply exfoliates for both face and full-body treatments. Two small hydro-diamond tips are ideal for sensitive skin, simultaneously delivering deep exfoliation and a gentle pneumatic suction.
Ruffle Peel (recommended for sensitive/acne-prone skin). Two gentle peeling tips, one large and one small. The larger ruffle is ideal for sensitive skin, smaller ruffle is intended for eyes and lips. Contains no diamond plate and delivers a less aggressive exfoliation.
Spiral Deep (for extractions and infusion). Two extraction tips, one large and one small, for use on T-zone, nose, chin and forehead.
Tips and sizes are selected based on skin type and condition. Each treatment is unique and offers the opportunity to customize accordingly. Tips last about 90 treatments with proper cleansing and disinfection.
The duration of a single session will conveniently take about half an hour to perform, and visible results will be instant. The unique HydroLuxx Oxygen Infusion Treatment is a great add-on to any spa. Zemits HydroLuxx comes with a 30-day return policy, 30-month warranty, free shipping, free training and free social media and marketing support. For more information, visit zemits.com/product/zemits-hydro-luxx-hydrodermabrasion-oxygen-infusion-system.