DAYSPA experiences the brand's signature ReVersive Anti-Aging Facial at the historic hotel.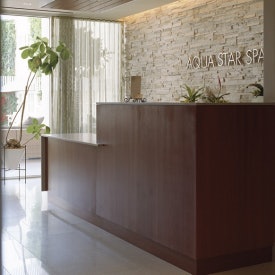 Los Angeles is a spa aficionado's playground. It's home to historic spas, traditional spas, ultra-modern spas and spas that inexplicably fly under the radar. Falling within the last category is the Aqua Star Spa at The Beverly Hilton, located in the iconic hotel in the heart of Beverly Hills. The only BABOR branded spa in the U.S., Aqua Star showcases products by the science-meets-nature brand that was founded in 1956 by German physician Michael Babor.
The spa is a favorite with celebs, but until recently, when I was invited to experience the BABOR ReVersive Anti-Aging Facial, I'd never set foot inside. The service (80 min./$225), billed as "a luxury treatment that restores skin's youthful radiance and luminosity, leaving the complexion looking firm, smooth and even," was just what the doctor ordered.
Arriving early on a Sunday morning, I had the place to myself. The front desk receptionist gave me a tour of the pristine facilities—a locker area, steam room and shower, all stocked with BABOR goodies. Despite the spa's basement location, it's bright, airy and welcoming, featuring a cozy, comfy relaxation area with a cream and brown, mid-century modern-style decor. My eyes were immediately drawn to a plate of delicate cookies—baked daily by the hotel's pastry chef—but I reluctantly vowed to save myself for my upcoming brunch in the on-site CIRCA 55 restaurant.
No sooner had I begun to immerse myself in the latest gossip mags than my therapist, Michelle, arrived to usher me into a spacious, inviting treatment room. I casually mentioned to her that I hadn't had anything to drink that morning and seconds later she reappeared with a frosty glass of chilled citrus water. The perfect start, as I surrendered to the warm bed and the protocol's lengthy sequence of steps.
Michelle began by thoroughly degunking my skin using a series of cleansers, including the brand's luxurious cleansing oil and mask. Next came an AHA peeling treatment. I was nervous about the potential effects on my sensitive skin, but I needn't have worried: I was in good hands, and experienced no irritation or discomfort.
Michelle then conducted a series of massages designed to lift and firm the lip and eye areas, and facial contours. A succession of serums, creams and masks—including a divine anti-aging treatment mask—was applied.
Customization is key: This service doesn't typically include extractions, but Michelle sensed that I needed them and happily dived in. She declared my skin to be "great, if a tiny bit dehydrated" and—extra brownie points!—threw in a collagen mask to plump and rejuvenate. I was in total bliss as she worked her magic. Other highlights included an enzyme mask on the arms (an unexpected but appreciated touch) and a foot massage that I didn't want to end.
When the facial was finished, my skin looked renewed and refreshed—and although I wasn't about to walk the red carpet, I sure felt like a million dollars.