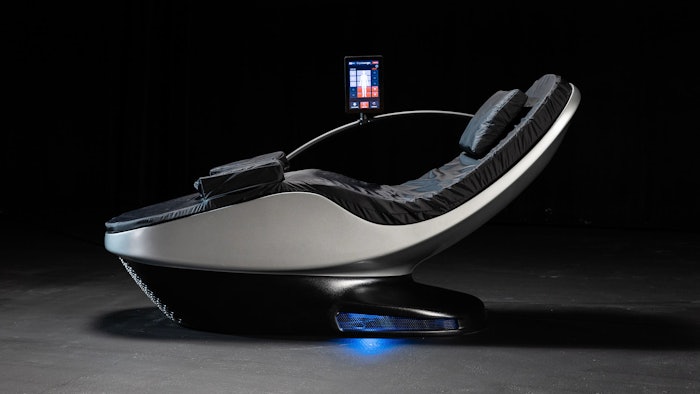 Photo courtesy of HydroMassage
HydroMassage has launched the CryoLounge+ chair that delivers cold, heat and compression therapies without the use of a therapist. 
CryoLounge+ eliminates the hassles often experienced with traditional cryotherapy options like ice baths and cold chambers. The device is a simpler alternative that doesn't require a large setup, additional staff or an uncomfortable recovery session. Cold is applied to target soreness or minor aches and pains, while the user remains comfortable with heat applied in other areas of the body. 
Related: HydroMassage Introducing Two Wellness Products at IHRSA
The chair includes an optional Compression feature for a calf massage, an Auxiliary Pad to target cold and heat in hard-to-reach areas such as shoulders and knees, and a Contrast feature to switch the cold and heated areas toward the end of the session. 
Additional HydroMassage products include chairs that focus on relaxation and mindfulness. Spas that offer the Cryolounge+ as a premium service can add an additional revenue stream to their business, similar to how HydroMassage Beds and Lounges are marketed. 
"CryoLounge+ comes at a time when wellness and recovery have become a key part of healthy, active lifestyles," said HydroMassage founder and CEO, Paul Lunter. "For decades, physical fitness meant a no-pain, no gain approach, but now, there's a much greater understanding about the importance of recovery."