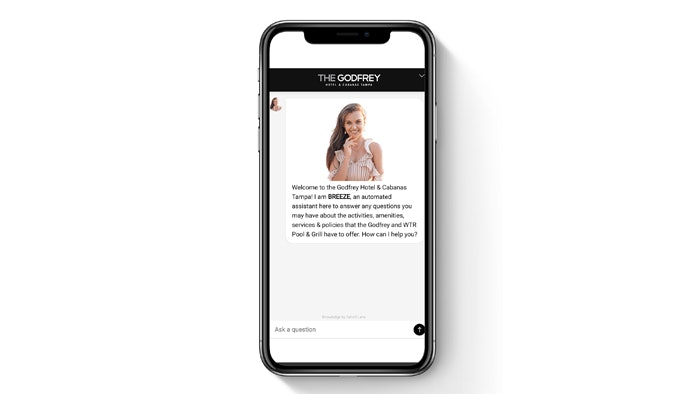 Courtesy of The Godfrey Hotel & Cabanas Tampa
Website chatbots are growing in popularity as spa-goers search for contactless ways to get in touch. A chatbot is a software application used to conduct online chat conversations via text or text-to-speech, instead of direct contact with a human agent.
When it comes to spa and hospitality, two recently introduced applications have entered the fray. 
Hospitality tech company UrVenue has collaborated with AI platform Satisfi Labs to launch UV Chat, a contactless customer service and booking chatbot aimed at streamlining the entire experience. Hospitality companies can implement this chatbot within all digital touchpoints, including guest apps, websites, on-property kiosks and other messaging platforms. The Godfrey Hotel & Cabanas Tampa in Florida is currently piloting UV Chat, using the chatbot to give guests instant answers to questions about the resort, available experiences and safety protocols.
Meanwhile, conversational marketing platform Botco.ai has introduced version 2.0 of its software, which now features Contextual Chat Marketing and an advanced analytics dashboard. Contextual Chat Marketing allows businesses to initiate personalized conversations with customers and potential customers based on how they came to visit the website—a great way to increase conversion rates. Plus, Botco.ai can connect to a company's CRM, email and other marketing systems, and converse with visitors based on their previous interactions, including purchase history, the length of their relationship, membership status and more.