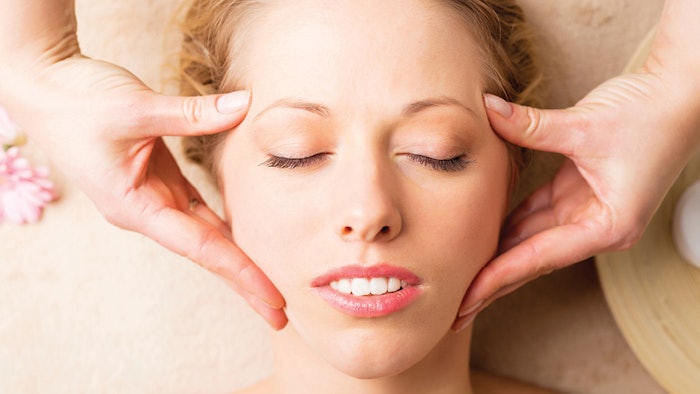 How does facial massage benefit the face, body and mind?
Rebecca Olpin, director of education, Sorella Apothecary:When performed regularly, facial massage can address puffiness and provide a lifting effect by releasing tension to elongate the muscles. The increased blood flow also oxygenates the skin, encouraging all skin functions to operate more efficiently.
Janet Schriever, founder, Code of Harmony: Guests will see visible results, including lifted cheekbones, reduced nasal labial folds, firmer jowls, diminished fine lines and wrinkles, less puffiness in the eyes and face, and an overall rested look. This happens because the massage relaxes tight facial muscles, breaks up compacted connective tissue, increases blood flow, flushes out the facial lymphatic system and adds a nice skin exfoliation. Buccal work allows us to release the muscles of mastication that are not typically accessible from the outside, so clients also feel a profound physical release of the jaw.
Sam Meyerson, esthetician and customer support, 7E Wellness: Acupressure grounds the mind while releasing tension in the body. Sometimes repressed emotion will accompany that release. Muscle stripping relaxes deep knots in the denser muscle tissue and can break up stagnation and scar tissue. This technique helps relieve the pain of muscular issues like TMJ while sculpting and lifting the face. Lymphatic drainage involves a delicate touch that moves and drains otherwise stagnant lymph fluid in the face and body. This consistent, repetitive, gentle massage language brings the mind to rest while facilitating better systemic health.
What tools and techniques do you prefer?
Kimberlee Geng, director of education and training, Pure Fiji USA: My top techniques are pressure point stimulation, lomi lomi and lymphatic drainage to increase circulation and relieve congestion. I prefer to use my hands and a gua sha tool. The movements are light and relaxing with very little pressure, which leaves skin glowing, more sculpted and toned.
Schriever: I practice the sculpt and release method with buccal massage. This protocol sculpts the face through a very specific facial massage technique, where I put on gloves and massage the face from the inside out. My favorite massage tools are my hands. They can do everything perfectly and with precision. There is no superior tool for sensitively interpreting the needs of the skin, musculature and the facial structure. The hands can feel and are intuitive.
Dorothea Fenech, training director, Guinot: Simple human touch is underrated in the modern treatment room. So, I prefer to use the skin on my cleansed fingers, palms, wrists and forearms.
Victoria Tabak, holistic esthetician, CEO, Nature Pure Clinical Skin Care: There is no tool like your hands, but some of the other massage tools like gua sha, roller, ice globes and cupping are great for their own individual benefits.
N'Crai Pittman, lead esthetician, Artemis Distribution: I really enjoy using Himalayan salt wands, ice globes and gua sha, but my favorites are cold stones and aromatherapy. Cold stones are great for reducing inflammation, and utilizing pressure points can open up congestion or other sinus issues that clients may have. I love aromatherapy because it adds another layer of relaxation and incorporates all senses into a treatment.
The Third Eye Massage Demo Video
What's your top tip for spas looking to implement facial massage?
Tabak: The length of your appointment may be a great guidepost as to the type of massage and tools you would like to offer your clients. Regardless, incorporating massage during the second cleanse, early in the facial, is the perfect time to segue into the treatment experience.
Olpin: It's important to train service providers on anatomy and best practices for their own body mechanics. Gaining experience in how much pressure to use, when and how to use it, and creating a facial massage that yields results beyond relaxation will keep clients coming back time and time again.
Meyerson: Pair massage with other modalities for a synergistic boost! You will see enhanced results when you incorporate modalities like microcurrent, cryotherapy, oxygen therapy, LED and more.
Fenech: Learn and study the 43 facial muscles and their functions so that you know what you are targeting. Watch videos from reputable estheticians and massage therapists while practicing on an esthetics head. Practicing on friends and family is helpful, too, as they can tell you what feels good and what doesn't. At the end of the day, any type of massage will likely feel good and therapeutic. Massage shouldn't be one size fits all; while it's nice to have a basic go-to routine, it's important to mix it up based on your clients' needs. Also, don't neglect the back of the jaw. People tend to hold a lot of tension there and it can be quite therapeutic to loosen that up for them.
Pittman: Make sure you are consistent and have enough time allotted in facials to add in a massage, as most guests really appreciate and look forward to the massage portion. Some clients even say that facials, specifically those with facial massages, are more relaxing than body massages!