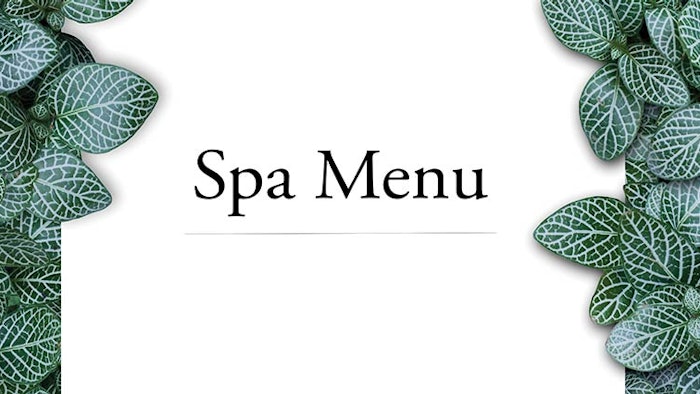 We're all being asked to be more nimble, flexible, smart and creative in every area of our lives. This year has been something of an awakening, a time to think about our priorities and what we really consider essential for a happy and balanced life.
We perhaps have previously given lip service to the idea that "health is wealth," but now we realize it's not something we can continue taking for granted. Many people have either been affected personally by the virus, or been motivated during various stages of lockdown to focus on well-being as a preventive and socially responsible measure.
More than ever, we see that we don't need as much "stuff" as we thought we did. People are decluttering their homes of material possessions, while virtual wellness initiatives have taken off. In that same way, many spas and wellness facilities are starting to minimize their service menus; those who are should consider the following factors.
How Spas Benefit
Spa menus were already heading in the direction of "less is more" with shorter descriptions, fewer treatment types and tighter concepts. Now, operators are streamlining menus even further based on economics amid this uncertain time, with reduced staffing and fewer guests. Treatments that are no longer encouraged or perhaps have even been prohibited, such as facials, have been discontinued at least for the time being. Longer term, there are some other benefits to streamlining your service offerings.
Training new staff and therapists is more efficient with a smaller menu, as well as re-training staff who have been on extended leave for any reason.
You can play to the strengths of your local culture and therapists' expertise, and create a stronger sense of place for the customer.
Highlighting and building on your competitive strengths will help ensure the highest possible guest satisfaction, which is the foundation of every business.
You'll have the opportunity to create a strong public relations story and positioning. How do you want clients and media to think of you, and what do you want to be known for? It can be better to specialize in a few things rather than trying to be a jack of all trades.
You'll have strong brand alignments for spa products. I've always been a proponent of carrying only a few brands that align with our concept, rather than offering a potentially confusing "all day dining" style spa menu. This also helps you better manage product inventory.
It makes the booking process easier for customers; a long list of services can be overwhelming, and an entirely avoidable stress point in a spa!
Continue Reading to see how you can get started on boosting your spa menu...
Luisa Anderson is the regional director of spa for Four Seasons Resorts Bali at Jimbaran Bay and Sayan. She's a sought-after spa consultant and therapist, having held senior roles in numerous iconic spas for decades. Renowned throughout the spa and wellness industry, Anderson believes in developing congruent relationships between spa staff members, as well as between them and their guests.