However, selling online isn't just about fattening your bottom line: It can also help boost your brand. Aisling O'Shea, spa director of Yelo Spa in New York City, says that selling via the web goes hand in hand with the retail component in the spa. "We offer online retail for two main reasons: to provide a convenient option for our customers, many of whom travel; and to keep up with online retailers and stay in front of our clients," she shares. Selling multiple national brands online helps with SEO too. "Clients looking for a particular line or product can be led to our spa, and may learn more about us in the process," says O'Shea.
But what if you're late to the online sales game? Take heart: Your spa can still successfully participate. After all, clients are always going to use skin- and bodycare products, so why shouldn't they buy them from you?
Selection
First, choose which items to sell online. If you own a spa or full-service salon, you may have as many as 500 retail SKUs, but there's no need to make them all available on your website. Generally, skin care and cosmetics are the top sellers, so start there. Run a sales report for the last 12 to 18 months and look at the top 20 percent of units sold—this could even be as few as 10 or 12 SKUs—which will provide a platform on which to build. Products that are proprietary or unique to your spa are especially conducive to online sales.
RELATED: Spa Pros Share Their Favorite Antiaging Treatments
Permissions
If you carry a national brand in your spa, you need to ask for permission to sell it online. Many companies are happy for you to do so, and will provide support and tools—but some won't. With beauty products in particular, manufacturers and distributors are careful to exert control to preserve their brand's power. To avoid online pricing wars, they'll typically ask you to sell at the MSRP. Dasha Saian, owner of skincare brand SAIAN, explains, "As a professional brand owner, one wants to keep the value of the products high."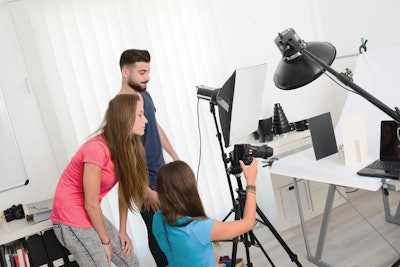 Photos and Descriptions
It's not enough just to list the products: You'll need a photo of each one, preferably on a white background. National brands can likely supply these for you; if you carry your own brand, you should have the items professionally shot. Be aware that image quality has a huge impact on sales conversion, especially for clients who are unfamiliar with the item. Descriptions are key too. "Online sellers have to make sure the directions and skin type information are listed in detail on their site, especially for professional products," shares Saian.
RELATED: 6 Strategies for Creating a Diverse Spa Staff
Sales Platform
Once you've decided what to sell and obtained the necessary photos, along with descriptions and pricing information, you'll need a mechanism to retail the products online and collect payment. Shopping cart software providers such as Volusion and Shopify can help with this, and provide a seamless interface between the cart and your site. Some website platforms, including Squarespace and Wix, also have shopping cart options. Keep in mind that you'll need a separate merchant account for payments. Whether or not your online system integrates with your operations software, you'll still require a technology platform to interact with the consumer, record the sale and collect the payment.
Fulfilment Process
Success: You've just sold six products online, to three different customers! Now the logistical work begins. Someone on your staff has to check your online systems for sales, then collect, package and mail the products, all in a timely manner. Consumers expect online orders to be shipped within 24 hours, if not the same day. Drew Allt, owner of Drew Patrick Spa in Bayshore, New York, reports that he and his staff spent a lot of time creating guidelines for packaging and shipping, both to preserve the items and the brand image. "We use specific boxes, protective crinkle, logo tissue paper and even logo packing tape, so that receiving a box of our products at home conveys the same level of quality as our in-store retail experience," he explains.
There's also the option to sell via a third-party seller that handles the fulfillment, but it can be challenging, especially as some larger third-party sellers have stringent approval processes and packaging requirements that can change with little warning.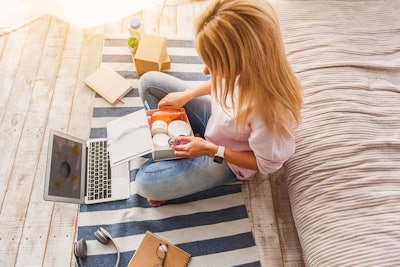 Incentives
Building an online retail business takes patience and savvy. Yelo staff ties in-spa promotions and specials into its online presence, driving sales by linking from these service menu specials directly to the online store. Spas that utilize loyalty points programs can tailor them to reward online sales. Kathy Arkoumanis, sales director at Arcona, suggests that "Each owner needs to be savvy in developing their marketing, by reaching out to customers through flyers and the local chamber of commerce, and being diligent about collecting email addresses. And, of course, our clients all have social media accounts, which has helped spread recognition."
RELATED: How to Market Your Spa on a Budget
Cautionary Notes
With his experience in online retailing, Aleks Vranics, VP of sales & technical training at Vitelle, shares some sage advice: "It's important to consider that spa products have a shelf life and are affected by climate; you must take this into account when planning shipping and storage. Should the product have a box around it, or not? Certain demographics feel that the box is wasteful, but products in glass bottles need a protective layer," he cautions.
Also, be sure to have a clear return policy stated on your website, and be generous about it, otherwise new consumers won't take a chance on your products. Vranics advises that online return rates will generally be around 10 percent higher than in-store sales.
Ultimately, it might be worth taking the plunge. As Saian sums up, "The biggest advantage to selling products online is the additional income. Treatments will only bring in so much revenue, but product sales can make or break a spa's success because they keep the customer's skin looking beautiful between facials—and they help maintain a relationship between the client and the spa."
Private Label Considerations
All of this online activity involving competing national brands may lead a spa to the obvious solution of creating its own brand, which offers much more leverage with its consumers. Vranics reports that 70 percent of businesses contacting them to explore private label are doing so because of this very issue. Having your own label means you are in total control of all of the distribution points, and your customers cannot find your products anywhere but in your spa or on your website. "When we began selling our skincare products online, we spent a good deal of time researching product names, descriptions and benefits to ensure that our clients would not be confused by look-alikes in the marketplace," explains Allt. "We can't complete with the speed or pricing of third-party sites, but by offering our own label, we don't give our clients a reason to leave our website to begin price shopping online. If a shopper on our site searches for our skincare on another site they won't find it. They may find a similar product produced by the same private label manufacturer that we use, but they won't find it with our product name."
A great online success story can be found with the Arcona brand, which was founded in California in 1993 by esthetician Arcona Devan. Arcona has had a brick-and-mortar studio for many years, and also started selling its products more than 10 years ago through its website. Additionally, its products are now carried in some Nordstrom and Sephora stores. The brand's sales director Kathy Arkoumanis reports that "Online retailing has exposed us to a new customer and grown our brand recognition. We have clients who travel a lot, or live in other states, so the online store allows them to replenish and has become a big part of our business." Arcona's current rate of online business growth is 40 percent, and accounts for a much larger amount of revenue than the brick-and-mortar business.
– by Lisa Starr
Unless you've been living under a rock recently, you're aware of the current challenging state of brick-and- mortar retailing amid the e-commerce boom. The online sector is the main driver of business gains in retailing, with U.S. sales growing at a steady rate of approximately 15 percent per year since 2015, and forecast to reach $530 billion in 2018. As spa owners know only too well, clients can browse retail shelves post-service, price comparison shop on their mobile devices and walk out without a bag.