Botanical Science, Inc
. "It's a tool that can be used to promote and brand yourself, and to stand out from the competition."
"Private label brings your name and your skincare brand to the community, increasing new referrals and customer loyalty," notes Cindy Anderson, director, private label division, CBI Laboratories. "It's truly a signature of distinction and indicates to your clients that you have carefully selected products to fit their needs."
The ability to control your own brand by using and selling an exclusive product line formulated with your signature scents and flourishes can be an indisputable asset, but it's also a major responsibility. Initial outlay when launching a private label line typically runs about $3,000 to $5,000 for products, design and marketing. But it's not enough to just slap your spa's logo on some pretty bottles—success requires marketing savvy, retail savoir faire and plenty of old-fashioned R&D. To find out more about this very private affair, we went to spa mavens and industry veterans to dig up some key strategies for success.
1) Keep your initial product line manageable. The "magic number" depends greatly on your budget. "We have found that in general four SKUs are a good way to introduce a private label line, but that can change depending on the specific product line being created," notes Steve Rosenfeld, president of Columbia SkinCare. Some other pros avoid quoting a specific number. "For spas with less to spend, choosing products that target a specific skin concern such as anti-aging is the way to start—you can always add more as you grow," says Alicia Iraclides, director of sales for Global Beauty Private Label Skin Care. "If you have a large budget, shoot for a variety of products to address the most prevalent skin issues, with three to five SKUs per category." Gary Robie, president of ReadyCare Industries, suggests launching with body care. "Begin with body wash and body lotion in larger sizes: These tend to be best-sellers, as they provide better perceived value. Follow with skin and hair lines after your body product sales take off ." He adds that different people are drawn to different scents, so it's vital to offer more than one fragrance.
2) Be smart about your label. Appealing design is a key driver of sales. However, just as you wouldn't go to an accountant for a car tune-up, you must be mindful of what's in your wheelhouse—remember that most private label companies employ in-house graphic designers. Jerry Nezaria, CEO of Shira Esthetics, points out that some spas like to design their own labels, whereas others provide only their logo, which his company uses to create several packaging and design options. "We talk to spa pros at length about their aesthetic, existing collateral and goals, and then present them with several label design choices," says Fitzpatrick. Adds Robie, "We silkscreen test bottles so customers can see and feel what the final design will look like before they approve it." Rosenfeld concurs: "We always prefer to participate in the package design, but the client should provide the input of the desired look they're seeking." And, reminds Anderson, "You should certainly seek out a design professional to create your logo, whether you're using an independent designer or asking your private label partner to assist. The best solution for you may depend on the complexity of your design needs." Branding is also crucial, but before you get the name of your spa emblazoned across all your bottles, consider that you may want to sell them online to a wider audience. "Some of our spas have had success selling their products at local gift stores, boutiques and farmers' markets," says Robie. In other words, it may pay to keep your packaging versatile.
RELATED: The Powerful Skincare Benefits of Lavender
3) Brush up on your marketing skills. When it comes to private label products, the more visibility, the better. "Leverage them in prepackaged holiday or seasonal gift sets, and display them prominently in your locker rooms and retail, waiting and relaxation areas," suggests Robie. Iraclides adds that staff training on private label products is crucial. "They're your sales team; they're the ones who interact with your guests. Empower them to provide samples and answer any client's questions," she says. And make sure to utilize your private label products in services. "Use them in the treatment room and talk about them!" stresses Fitzpatrick, who adds that spa owners should also be prepared, at first, to put money and effort into events and sales promotions to highlight their newly launched private label line.
4) Choose ingredients wisely. Most private label manufacturers offer a range of formula combinations and quality grades. Pick products based on your target market. "Whether you go for high-performance actives or natural/organic options, ingredients matter," says Iraclides. Anderson agrees: "As a spa owner, it's important to understand the needs and expectations of your clientele as they apply to ingredients." Robie advises spa customers to consult with formulators on fragrance, ingredients and formulations. "Clients are the final decision makers, but formulators should have a wealth of knowledge about what traditionally works."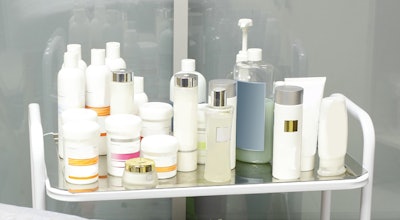 5) Be strategic with samples. Iraclides says free samples are crucial when it comes to private label, because your brand is unknown. Fitzpatrick adds that you should talk to your manufacturer about wrangling sample-sized goods. Robie, however, opines, "We don't recommend take-home samples, but suggest tester bottles in your retail area and locker rooms to boost visibility and exposure."
PHOTOS: Valentine's Day Products 
6) Consider product shelf life and purpose. You'll be ordering both retail and backbar sizes, and you'll need to be conservative with the former, at least to start with. Make sure you're aware of minimum order requirements and shelf life—and read the fine print. "We accept small minimum orders—as low as $100—when clients choose from our 50 stock formulations," says Robie. "We can also deliver custom formulas; however, minimums are higher and lead times are longer."
7) Retail online. It can be expensive to get that shopping cart embedded into your website, but you don't want to miss out on online sales as another potential revenue stream. "Use all your digital channels to get the word out about your products," stresses Robie. "Social media is often the best place to start," agrees Nezaria.
8) Stay focused on your end game. That being retail sales and customer retention. "Control your brand accordingly, from pricing to marketing to where and how your products are sold," says Iraclides. Robie reminds that a successful private label line "allows happy customers to bring their spa experience home, which encourages follow-up visits and word-of mouth promotion." "Retailing your own private label skincare line secures your customer base because clients must get the products directly from you," points out Anderson. Adds Nezaria, "Creating and promoting your own brand also provides a real source of pride. It increases brand awareness and retail revenues, sure, but essentially, you're giving clients more reasons to connect with your spa."
–By Katie O'Reilly
In the age of globalization, instant gratification, and drones that can conceivably drop any gadget or widget on our doorsteps, not many business owners can claim to offer something customers can't find elsewhere. But one area that remains truly exclusive is the private label skincare arena. "A private label line is uniquely your spa's," says Debbie Fitzpatrick, VP of sales and marketing for