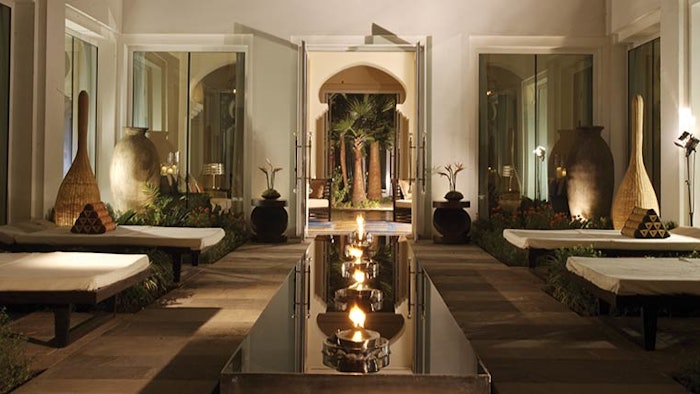 A man with a disability living in a large-sized body enters the spa's relaxation area and looks for a chair that he can get in and out of without further injuring himself. An older breast cancer survivor needs a massage but knows that lying face down will cause unbearable discomfort in her chest. A non-binary person must choose which gendered changing room to use, as there are no gender-neutral changing or restroom facilities.
While these stories are fictional, they are realities for many spa-goers. Plenty may even skip the spa altogether when they are unsure if they will feel comfortable, safe or welcome. Hospitality professionals have increasingly been addressing the human element of inclusion in teams, so it makes sense to expand that focus to the spa's interior design and how to make physical environments for guests more inclusive.
Inclusive design should be at the forefront of all design decisions because everyone benefits from an environment that aligns with inclusive principles. The Commission for Architecture and the Built Environment (CABE) states that inclusive design is about making places that everyone can use, removing the barriers that create undue effort and separation. It enables everyone to participate equally, confidently and independently in everyday activities.
There are five key principles at the heart of inclusive design. Spa and wellness architects and interior designers who follow these principles as a guide can create a spa that's truly fit for everyone to use and enjoy.
Principle 1: Place People at the Heart of the Process
Great spa design and development facilitates well-being in all its forms and has the potential to foster loyal, repeat customers. When great design meets inclusivity, personal well-being is enhanced by social cohesion and enjoyment for all. To achieve this, designers should involve as many people as possible.
Take your cues from the people who make up your clientele: older folks, people with disabilities who may or may not be assisted with wheelchairs or walkers, people with breasts, the visually impaired, the neurodivergent, highly sensitive people and trauma survivors.
Empathy is always a great starting point. When considering furniture or how to set up the flow/use of a space, imagine yourself as one of the three spa-goers mentioned earlier in this article, or a senior citizen with mobility issues, or a trauma survivor who needs psychological safety in small, enclosed spaces. What choices would you make for furniture and the flow of rooms if you lived life as one of these guests?
Ultimately, inclusive design centers around unique individuals and how they interact with space.
Continue Reading our Digital Magazine to learn more about the best practices for designing inclusive spa spaces...
A lifelong spa-goer and wellness product devotee, Irene Macabante uses her 25+ years of branding and marketing experience to create memorable spa experiences. As founder and CEO of The Citrine Consulting Collective (citrinecc.com), she ensures that its mission and vision are carried out with integrity, efficiency and transparency.