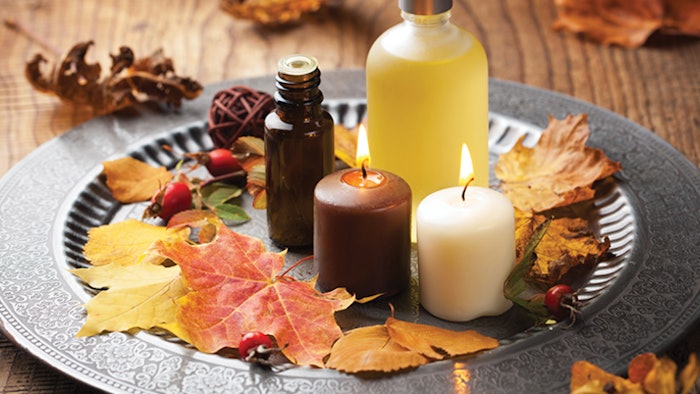 As the leaves begin to fall again and pumpkin lattes reappear at cafes, our need for warmth, coziness and inward reflection re-enters our everyday lives. Autumn naturally lends itself as the perfect season for spa: It's a time when we're seeking comfort and revitalization after a summer of traveling, days in the sun and endless fun. Seasonal service enhancements, special events and even appropriate decor can all be great ways to bring the best parts of the fall into the wellness experience and provide clients with an unforgettable service. Here are a few ideas for crafting luxe seasonal experiences that new and regular clients won't soon forget.
1 Utilize seasonal themes. The changing of the seasons is always a great time to spruce up your lobby and reception area to create a positive first impression. Depending on your design preference, you may consider classic decorations like gourds, mums and leaves, or you may opt for more subtle touches like switching out regular pillows and blankets for those with warmer tones, decorating with pampas grass and eucalyptus, and keeping a spiced candle burning.
Another subtle nod to the season can be presented in complimentary offerings. Think about adding warming teas such as chai, black and oolong, or hot coffee and cider donuts to the refreshment area. Also consider infusing the spa with a seasonal, earthy scent that's not overpowering, such as a sandalwood, amber or cedar. The key is to keep it simple and understated so that regular clients still feel comfortable in the space but appreciate the subtle changes.
2 Promote detox and hydration. A complete fall-inspired experience should, of course, extend to the treatments themselves. This is a great time to promote a seasonal salt or sugar scrub. At Salt Spa at The Reeds, our clients come to us in October and November after a long season of sun-filled days and late nights, with skin that needs deep hydration and healing from months of sun exposure; their bodies are also in need of detoxification. A pumpkin pie or apple spice-scented scrub is the perfect way to slough away the damaged skin and reveal a fresh layer of dermis, leaving the client smelling and feeling heavenly for the rest of the day.
In addition to full-body treatments, seasonally inspired scrubs can be applied in nail services and offered as an add-on to massages. Nail polish selections should grow to include more autumnal colors.
Continue reading for the other two tips on making fall experiences in your spa in our Digital Magazine...
Lea Gorodesky is the manager of Salt Spa at the Reeds at Shelter Haven in Stone Harbor, New Jersey, and was instrumental in the opening of this boutique destination spa. She spearheaded the pre-opening team, consulting on design, thematic strategy and therapist selection for what is quickly becoming one of the East Coast's top destinations.