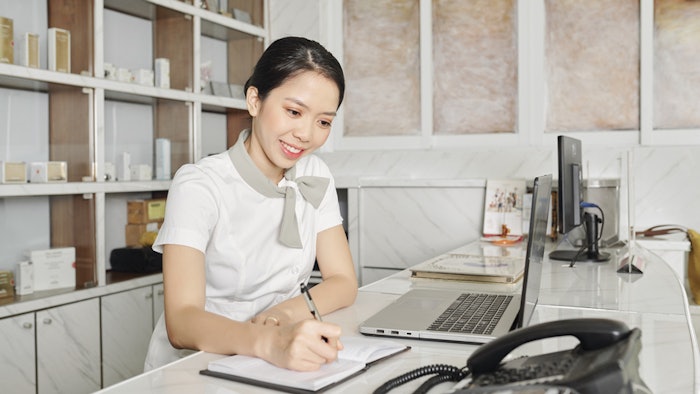 At a recent ISPA Town Hall, which took place June 17, 2021, a panel of industry experts discussed what's next for the spa industry as we emerge from the pandemic. The panel included:
Patrick Huey, ISPA Chair
Brennan Evans of Trilogy Spaholdings
Megan Jasper of Gaddabout Salon Spas in Arizona
Marcus Keene of Wynne Encoure Las Vegas
Kelleye Martin of Edgewater Spa in Wisconsin
As they talked about the future, one thing became clear: Spas must do their part to keep employees—from front desk staff to service providers—feeling happy, productive and safe as we come back from COVID.
Face Masks
As mask mandates are being lifted and spas begin operating at 100% capacity, some employees may still want to wear masks, particularly estheticians. When it comes to clients, you can strongly encourage masks, and encourage guests to stay home if they don't feel good. Spas should also consider not charging for late cancellations.
Tying policies to vaccination can get tricky, so following CDC and OSHA guidelines is a spa's best bet. But even if a business knows the vaccination status of its employees, it should not be disclosing that information to clients (should they make a request).
Related: Improving Wellness in the Workplace
Most importantly, management should discuss these ideas with the entire team and come up with policy together, so that everyone feels safe and supported.
Hiring Practices
It's no secret that there's a bit of a labor shortage in the spa and wellness industry, particularly in terms of those jobs where people were able to easily transition into another industry, like attendants and front desk staff. Consequently, a lot of spas are having trouble finding quality candidates to fill these positions.
One way that people on the panel have been solving this issue is by expediting the hiring and onboarding process. These days, if you're not able to respond to an applicant within a day, you run the risk of losing them to another offer.
Spas are starting to raise front desk wages, which is attracting higher quality candidates. For providers who work on commission, a simple verbiage change may help. Rather than reporting the wage plus commission, do the math and let them know the total: "You can make up to $XXX amount."
Other factors that are motivating people to come back to work revolve around what management will do for the team; maintaining high morale is important to them, beyond just the dollar. Spas should use their culture as a recruitment tool; focus on why the candidates will want to stay, grow and live with this job.
Related: [Diversity and Inclusion] How To Support Your Team
Spas can also consider offering a finders fee for insiders who refer candidates, and a sign-on bonus for those who accept a job. Finally, consider reducing the amount of time that it takes to receive benefits after sign-on.
Current Spa Staff
Spa management should be cognizant of what they can do to keep their existing staff happy as well, whether it's more flexibility, higher pay or showing them how much they're valued. The panel recommended throwing a pizza party or going bowling—all on the corporate credit card.
Businesses should also be doing wage analysis reviews on every position and make changes accordingly. And of course, think about how you can allow for faster growth opportunities.
"Remember: A lot of your workers were frontline, working well before a vaccine was available," Huey pointed out. "You need to appreciate and reward them, especially because burnout and fear could still be impacting them."
Finally, the panel talked about compensation and how spas can best take care of their employees. Ideas included:
Revamp your commission program to be more transparent and easily understood. Be sure to revisit this regularly to make sure everyone understands how they're being compensated.
Raise rates and prices across the board, which will help everyone on staff.
Implement automatic gratuity in contactless checkout, and tips will increase.