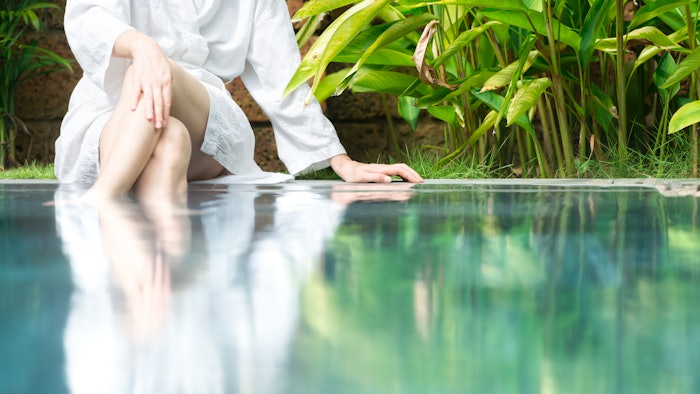 Hotel and resort spas are uniquely positioned when it comes to marketing their offerings, in that they have a built-in, captive audience of hotel guests who, if the spa is creative and strategic, present plenty of revenue opportunities. One major advantage is that spa managers can collaborate with the property's conference and event staff, as well as food and beverage leadership to incorporate the spa's brand experience into other happenings. The key is to maintain the goal of making the guest's experience one that's so stellar that it fuels great referrals and repeat business. With that in mind, here are 10 ways to market the spa to resort guests.
1. Tent cards
Wellness is a renewed priority for any hotel guest, whether they're taking a local staycation for a change of scenery, traveling for leisure or on a business trip. A great way to entice them to visit the spa is with healthy travel tips. Print tent cards or brochures that provide education and pointers for optimizing wellness while away from home and have these prominently placed in guest rooms. Highlight staff's expertise, unique modalities or easy step-by-step rituals. Be sure to feature the spa's branding and contact information, which will make it easy for the guest to get in touch about how you can improve their health and well-being—and add value to their stay.
2 "Try Me" invitations
Some hotel guests may not have time for a full spa day, especially if they're there for a conference or other event. Create express or "try me" style services that can suit their time limits. As an additional incentive, bundle the treatment with some travel-sized products that these clients can take home.
3 Amenity toiletries
Although it may seem obvious, hotel spas often overlook this opportunity to offer its products as amenities in guestrooms. In addition to the standard hotel toiletries, think of all the convenience items that guests enjoy while at a hotel, and expand your spa's product offerings to include these. If this is cost prohibitive, consider including a mini spa kit instead. It may also be helpful to have some full-size convenience items in the spa instead of the hotel gift shop—especially if your retail area makes clients want to spend a little more time shopping during their visit.
4 Branded robes and slippers
Ensure that every hotel guest is familiar with the spa's coziness with a quality spa robe and slippers in their room. Include a hang tag or print card that explains all the spa has to offer, as well as a note that they can purchase these items if they would like to take their wellness experience home with them.
Toshiana Baker is the founder of SpaWorx (spaworx.biz), a consulting and training development agency that educates, enlightens and empowers spa, beauty and wellness organizations, while supporting growth in their financial performance. Baker is a passionate organizational leader, dynamic speaker and bestselling author who has served the spa and beauty industry as a licensed skin care therapist and global educator for nearly 15 years.