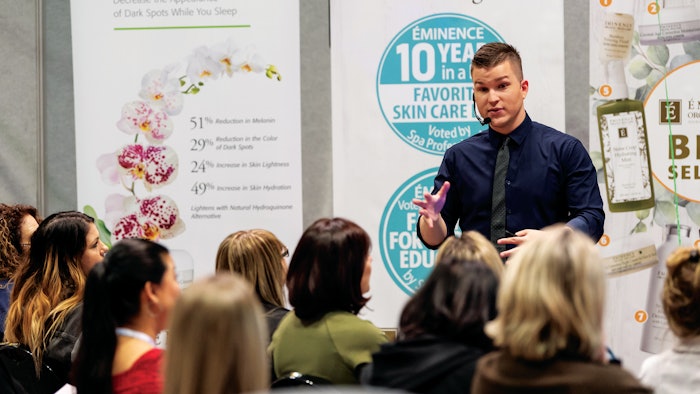 Education is key in spa and wellness, so learning might as well be fun, right? Enter Brian Goodwin, international educator for Éminence Organic Skin Care and advocate for having fun while you work. As an educator, Goodwin has seen pleanty come and go in the industry, so we sat down with him to talk more about the latest wellness trends, Éminence's new Gemstone collection and his top post-quarantine tips.
1. How did you get started in the spa industry?
I originally went to cosmetology school in Utah, and basic esthetics training is included as a part of the cosmetology requirements. As soon as I started learning how to do facials, I was hooked and realized that I wanted to pursue esthetics as a career. I also had challenges with my own skin, including acne, and I wanted to learn how to treat it and help others with their skin concerns.
2. What's the most fun part of your job?
There are so many fun parts! From working with outstanding colleagues who have become dear friends, to the incredible estheticians I've had the honor of educating, there's never a dull moment. I've always approached my job as an amalgamation of education and entertainment, because if we can have fun while learning, why wouldn't we? Incorporating entertainment into learning also increases the listener's engagement, and as a result, improves retention of what's being taught.
3. If you weren't in this industry, what would you be doing?
I would be pursuing a career in music and singing, as writing music and performing are other passions of mine.
4. What's the best advice you've ever been given?
In relation to my job, some of the best advice I've received is: "It's not how much you know, but rather how much you care." In other words, we can have all the knowledge in the world to teach, but if the learner doesn't feel like we care about their individual needs, we miss the opportunity to truly connect and make an impact.
Continue Reading this exclusive interview in our Digital Magazine...