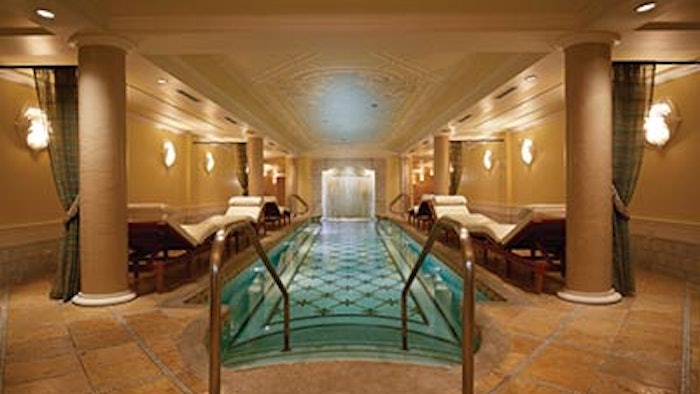 When looking up "spa" in the dictionary, it's defined as: "A mineral spring considered to have health-giving properties." So, it's no wonder that Kohler Waters Spa placed its focus on healing the body with water. Here, Ashley Kohler, associate director of wellness at Destination Kohler, tells Dayspa about what wellness trends she's seeing emerge in the industry, while Nikki Miller, director of Kohler Waters Spas, gives her insights on what it takes to run a successful spa. Dayspa interviewed them both for this dual One on One, where they provide us with a better understanding of what makes them love the spa and wellness industry more every day.
1. How did you get started in the industry?
In 2009, while earning my undergraduate degree in communications and master's degree in journalism from DePaul University in Chicago, I completed my 200-hour yoga teacher training certification. I was introduced to yoga in elementary school practicing with my mother (a keen yogi and teacher), but it was in Chicago that I uncovered a deep appreciation for it and recognized the opportunity for self-study. The practice helped me unearth passions, connect with others, encourage physical movement and discover a deeper spiritual quest within.
2. What's the most fun part of your job?
Community and innovation. I have a passion for helping others, giving back and creating a sense of community. I love new projects and always want to feel inspired and creative.
3. How do you practice self-care?
COVID-19 has been extremely hard on mental health and mental wellness for all. I prioritize self-care by scheduling time for myself to practice yoga or by treating myself to a massage. I often remind myself that it's completely okay to not be okay 100% of the time. I seek to stay positive, and love and live with purpose.
4. What's your favorite healthy recipe?
The Green Signature Juice at Press + Chill (the juicery and food bar at Destination Kohler), which is packed with celery, green apples, kale, cucumber, ginger, spinach, lemon, turmeric and black pepper oil.
5. What wellness trends are you seeing emerge?
I have seen trends in healthy aging, including nutrient IV therapy like the Biostation and energy devices like those from PureWave, which are wellness devices that promote natural healing.
6. What advice do you have for someone entering the wellness industry?
Follow your heart and go along for the journey. Wellness is a practice of never ending self-discovery, acceptance and exploration.
Continue Reading in our Digital Magazine to see what we asked the Director of Spas at Kohler Water Spa...