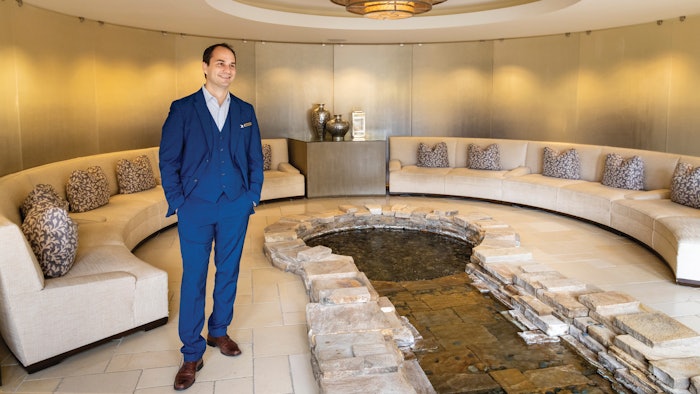 Becoming a part of the spa industry is sometimes a very happy accident, and this was the case for Benjamin Donat, spa director of Remède Spa at The St. Regis Deer Valley in Park City, Utah. Although he started out studying sports science in Germany, he ended up at the five-star Hotel Erbprinz and has stayed in the spa industry ever since. Donat has seen and learned a lot during his career, and we sat down to discover the best piece of advice he ever received, how he sees the wellness industry evolving and his favorite wellness treatment.
1. How did you get started in the industry?
I started in a five-star superior hotel: Hotel Erbprinz in Ettlingen, Germany. The hotel has been in operation since 1788, and I was so fortunate to be able to open their spa. I studied sports science in Germany and came to the spa industry by lucky accident. Moving to the U.S., I worked for MGM Grand and Aria in Las Vegas, then became spa director of The Ritz-Carlton Spa in New Orleans. This September, I moved on to a position as spa director of Remède Spa at The St Regis Deer Valley in Utah.
2. What's your advice for someone just joining the spa and wellness industry?
Try to master the position for which you have been hired before moving on. It will help in your career advancement to listen to treatment providers. Also, in a spa, you are always stronger as a team.
3. How do you practice self-care?
I work out—I love Peloton—and I recently discovered Park City's beautiful hiking trails, most with extraordinary views. Hiking is a great workout! I do receive massages and facials to relax, which helps me solve work problems. I use the products that we offer in the spa, too, so I can provide my personal experience and knowledge to guests when they have questions.
4. What's your biggest accomplishment?
If the spa is financially successful, it shows that my guests are happy and my staff can pay their bills. My biggest personal accomplishment was publishing a book in Germany and the U.S. called Get Off the Couch.
5. What wellness trends are you seeing emerge?
During this unusual time, it's more important than ever to respond to the personal requests and wants of our guests. I see more customized services in demand with less contact, but they still provide the ultimate relaxation.
Continue reading the rest of this EXCLUSIVE interview in our Digital Magazine...