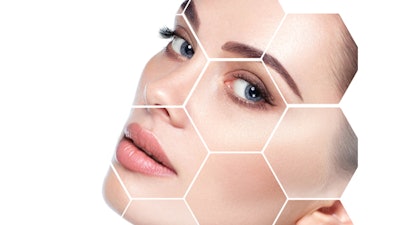 How do peptides benefit the skin?
Amy McLain, esthetics director of education, Kenneth's Hair Salons & Day Spas in Columbus, Ohio: Peptides are short chains of amino acids or protein fragments, which are essential for skin's structure, texture, firmness and elasticity. After the age of 30, skin starts losing its collagen, and its natural ability to send signals to the cells slows down. Peptides act as communicators that tell the skin to behave in a younger way. Different peptides have different functions, so they can be formulated to target a myriad of concerns for all ages and skin types.
Priti Patel, owner, Le Petit Spa in Charlotte, North Carolina: Peptides boost a variety of functions that help slow down signs of aging. They encourage cell renewal and hydration, have anti-inflammatory benefits and are especially good at minimizing the appearance of fine lines and wrinkles.
Inessa Uvaydova, esthetician, BABOR Signature Spa at The Dominick Hotel in New York City: Peptides are popular because of their ability to improve skin structure and maintain a youthful, healthy complexion. There are many topical formulas that deliver exceptional results because peptides help improve cellular communication by stimulating natural processes like collagen and hyaluronic acid (HA) production. They also encourage the skin to repair and rejuvenate itself.
How do peptides fit into your services?
Patel: Our Lift Me Up Age-Defying Treatment (90 min./$185) includes a thorough double cleanse and misting of the face and neck, along with the use of the Celluma LED Light Panel, which we leave on the face for 30 minutes. That's followed by the G.M. Collin Botinol Clinical Treatment, which includes the application of a serum, mask, corrective cream, eye contour and more— all containing a combination of peptides to smooth and soften fine lines, as well as lift the skin. Clients leave looking younger, with a hydrated and
more balanced complexion. We recommend a series of four treatments for optimal and lasting results.
Uvaydova: We offer several options, including the new ReVersive Pro Youth treatment (80 min./$335), which targets different signs of aging with multiple peptides, including two tetrapeptides and an exclusive nona peptide. The combination helps fight wrinkles, fine lines, redness, enlarged pores and lackluster skin. This treatment also incorporates BABOR Expert Method techniques and a specialized massage with rose quartz stones, resulting in youthful, glowing skin.
McLain: Our HydraFacial (60 min./$245) starts with cleansing and exfoliation to prepare the skin for a mild peel, followed by automated, painless extractions that clients love. The skin is then infused with HydroPeptide Power Serum, a booster packed with peptides that relaxes and softens wrinkles, facilitates collagen production and encourages a firmer appearance. The service finishes with an antioxidant serum to hydrate and protect the complexion. My clients are consistently wowed by this treatment; they love how small their pores look and how lines are noticeably softened, not to mention that there's no discomfort or downtime. Another service, the Rezenerate NanoFacial (60 min./$130), uses the Rezenerate Pen to deliver HydroPeptide Power Serum—via thousands of microchannels—into the skin, making it much more effective. We then apply a cooling mask that contains more collagen-signaling peptides, followed a signature Zen massage using cold globes with acupressure and facial toning movements. Our guests appreciate how relaxing this facial is, along with the noticeable results: Skin is plump, firm and radiant.
How should clients incorporate peptides into their homecare routines?
Uvaydova: They can use ampoules, serums, concentrates and day/night creams packed with peptides. I prefer BABOR creams, which I suggest clients use daily to improve volume and density, reduce wrinkle depth and rejuvenate the complexion.
Patel: Creams and serums containing peptides should be a regular part of every skincare routine. I opt for G.M. Collin Bota Peptide 5 Concentrate, which has five different peptides that help reduce expression lines and deep wrinkles while lifting and firming the skin. I highly recommend this product to clients who want to combat signs of aging without injections.
McLain: Peptides are so easy to incorporate—and unlike more aggressive ingredients like retinoids, they play well with others and don't cause irritation or inflammation. I suggest using a variety of peptides, since they signal the skin to do many different things for a wide range of results. But clients must be consistent so their skin cells receive their instructions loud and clear! HydroPeptide Power Serum is one of my favorites, as it's loaded with multiple peptides that tighten the skin and improve its structural integrity.
– by Alexa Joy Sherman
[Images: iStock; manufacturers]
This story first appeared in the February 2020 issue of DAYSPA Magazine. To receive the magazine, 
subscribe here
.