What makes your company unique?
As The Skincare Makeup, we introduced something unprecedented—makeup that also nurtures skin. With every new product, it's our mission to deliver personal, uplifting beauty that is as good for the complexion as it is beautiful to wear.
What is the brand's hero product, and why?
PurePressed Base Mineral Foundation has many benefits: It gives as much coverage as you want but feels weightless; it can be easily layered; and it lets the skin breathe and function normally. We conduct independent comedogenicity and sensitivity tests, so we know it doesn't block pores or create problems. And of course, it provides broad spectrum sun protection. I never leave home without it.
Of all the company's charitable causes, which stands out most in your mind?
They all stand out to me, but there is one exceptional program that's close to my heart: Look Good Feel Better teaches beauty techniques to people with cancer to help them manage appearance-related side effects of treatment, so they can face their diagnoses with greater confidence. Life's little pleasures can make a big difference!
RELATED: 5 Skincare Brands Share Their Eco-Friendly Practices
How did the Skin Supplements line come to be?
It was created and manufactured by the U.K.'s Advanced Nutrition Programme; when I saw the results, I begged them to let me bring it to the U.S.! I knew immediately that these supplements were creating beauty from within, an important advancement at the time. It's now understood that you can effect just as much change in the skin, if not more, by feeding it from the inside. But it isn't just about a healthy diet, it's also about supporting it with supplements that target and improve certain conditions— from dry to oily to aging skin. Although our line is small, it has something for all skin types, and is backed by research and quality ingredients.
Who or what inspires you?
I suppose I would say that all women are my inspiration. I see them balancing families and careers, tragedies and challenges; sometimes I wonder how they can continue to be so strong.
How do you unwind?
I love to cook, and I love gardening so much that it has become an inspiration for our makeup line, from colors to scents. I also keep bees—and jar their honey as gifts!
Tell us something most people don't know about you.
I love to renovate old buildings. We just moved our company into a renovated school building, The Bryant, built in 1889. We received Gold LEED certification for it. A great labor of love.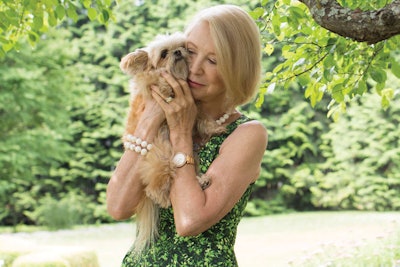 RELATED: Green Spa Experts Share Their Eco-Friendly Methods for Saving the Environment
Rapid Response
Personal mantra: Always do what you say you're going to do.
Favorite book: Lord of the Rings
Would most like to meet: Shakespeare
Guilty pleasure: A warm scone with Devonshire clotted cream and homemade strawberry jam
Favorite food: Avocado
A Scariest thing you've ever done: Jumped off of the top diving board when I was 11