Upson excelled as an A-list artist and enjoyed the international, jetsetting lifestyle that came with it, but becoming a father caused him to change direction again. Upson explains, "I was leading a very fast-paced lifestyle, but one day I made a choice to start making decisions for those who could not: my four daughters. As I raised my partner's two kids and then two of my brother's eight children, the joy became different—it changed my life."
In 2001 Upson began working as a director and talent coordinator at Wilhelmina International, with stints at Saks Fifth Avenue, Rock & Republic, and 'Tini Beauty and Bliss Spas, among others. His wide-ranging experience served as a launchpad for his roles as a spa director in Beverly Hills, California, Miami, and now for his latest directorship at the AWAY Spa in Las Vegas. Upson recently took the time to speak with DAYSPA about his life—and lessons learned so far.
RELATED: Front Lines – Julian Reynolds, Owner, Julian's Cosmetics + Skin Care
On his leadership style:
People can be inspired by the way you practice your business and the way you mentor them. I lead by example and prepare my employees for future success. My managers have gone into directorships because I recommended them for those jobs. I set them up for success because I'm not a leader who is scared they're going to take my job.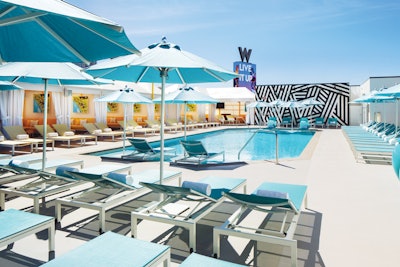 On what he learned from Steve Wynn:
He taught me that my communication skill set is one of the most important things in life. It starts with your employees: Make them happy by being honest with them and communicating effectively, because that happiness translates to the guest experience, which then translates to them telling their friends about their spa visit.
Many leaders skip that first step, and it ends up jeopardizing their business. Networking is also important: I've always built strong bridges that I knew I would probably utilize in the future. You never know when paths will cross again.
RELATED: One on One With Robin Olson, VP of Marketing, Glo Skin Beauty
On how to stay memorable:
Whenever I meet new teams I ask them, 'What's your signature that sets you apart from everyone else in the industry?' That might include personalized touches, product assortment, treatments offered and service. Because the market is so saturated, you have to have a connection with guests to ensure they remember you long after they walk out that door.
On his advice for industry newbies:
Guests have so many options, so it's crucial to make a good first and lasting impression on them. You only get one chance. From the moment your clients arrive they should be taken on the journey of your brand and culture. Let techs and signature touches carry them through to the final goodbye and a sincere invitation to come back. People remember how you make them feel.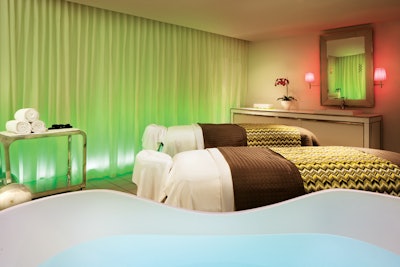 On making AWAY Spa thrive:
My team is happy, warm, friendly and professional. We have a good time doing what we do, but at the same time we're respectful of each other. It's massage, it's makeup, it's things that should be fun, so we can enjoy it—but let's also get the job done. My payback is the fact that guests comment and leave their feedback—which, since we've opened, has only been positive.
On his upbeat attitude:
I always try to bring a ray of 'sunSHANE' wherever I go because I love what I do. I have that West Coast appeal with an East Coast attitude, so I'm very honest, transparent and direct in my delivery.
–by Shelley Moench-Kelly
Shane Upson didn't set out to be a spa director. But while working a series of food service positions at Las Vegas hotspots in the 1990s, the Sin City native began to realize that his ambition was too big for the confines of a small kitchen. Sidelines in acting and modeling led him to develop an interest in the beauty industry, and at the age of 25 he decided to forge a new path, studying and mentoring under celebrity makeup artist Patti Jones.