beauty influencers
' Instagram feeds for an endless stream of colorful designs.
This pushing of boundaries in artistry has inspired everyday women to become more daring with their looks—a fact that makeup artists working in spa settings must key into. "Beauty influencers are benefiting both the client and her makeup artist," says Janeena Billera, Glo Skin Beauty national makeup artist and educator. "The client has a jumping-off point of a look she's inspired by, and the makeup artist learns that her client is willing to step outside of the box." Janell Geason, Aveda global artistic director of makeup, agrees: "By bringing about more willingness to play, this social media push also opens up more opportunity to sell products to recreate the look."
RELATED: 2017 American Influencer Awards for Beauty Coming in November
But, as a spa pro, how do you harness this expansive, ever- morphing beauty arena? First, of course, fill your social media accounts with looks, tips and videos. "Your guests are more than likely looking you up online before coming to you for services. These platforms will help drive business to you," says Geason. Second, follow beauty influencers and peers to keep abreast of what's trending: that way, you can anticipate what clients want before they even ask. "What's most important is that we, as artists, stay current on beauty trends and learn how to recreate them," reasons Geason. In that vein, you can read on to discover the season's top five makeup trends seen on the runways—and become a pro at personalizing them for your clients.
RELATED: Amazing Lash Studio Launches National Model Search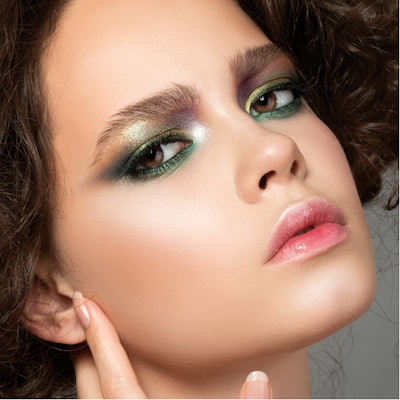 Where There's Smoke, There's Shimmer
Smoky eyes took on a more inventive look, with bright metallic accents lending light to the more typical dark designs. Before you add smoke, you'll need to base the eyelid with primer. "Eyeshadow primer ensures the color stays in place and also grabs the shadow as you're applying it, so you'll have less fallout," says Mary Swaab, founder of Colorlab Cosmetics. Then, choose a matte color in black, gray, navy or dark brown as your base hue; the contrast between matte and metallic will make the overall design pop. Now for the fun part: Add a metallic blast (or two) of color. "For the best results, look for shadows that have high pigment payoff and are multidimensional and iridescent," says Morphe creative director Linda Tawil. "Focus application on the center of the lid, tear duct or brow bone; these areas catch the most light," adds Ashlee Glazer, Smith & Cult beauty ambassador. If the drama of this trend falls outside clients' comfort zones, Geason suggests tempering it by sizing down the shape. "Don't bring your shadow up so high; keep it a little tighter to the lash line," she advises.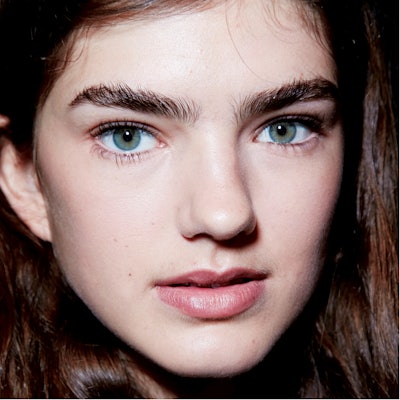 Loud and Brow'd
Natural, bushy brows continue to be championed by backstage makeup artists, with brushed-up, glossed arches dominating the runways. What you'll need to help clients nail the trend: brow gel, and plenty of it. "Brow gel is a natural brow's best friend; it gives a polished yet brushed-up look that stays put," says Natalie Soto-Carlisle, global makeup artist and educator for Iredale Mineral Cosmetics. "For thinner brows, a colored gel is ideal to fill in any gaps, and for those already blessed with bushy brows, a clear gel is all that's needed."
But won't this trend drive clients away from your brow- shaping skills? Soto-Carlisle stresses that it's actually quite the opposite. "The full brow trend makes eyebrows the focal point of the face, and it requires removing all excess hair around the desired shape for a clean finish," she says. If clients lack the hair count required for such bold brows, set them up with brow conditioners for at-home maintenance, and reach for pigmented gels, powders, fine- tipped pencils and felt markers to help immediately beef up arches without looking too overdrawn. "The right tools paired with specific brow products, such as a finely tapered and angled brush along with a wax-based powder or cream- based fill, will emulate a perfect hair-like stroke every time," asserts Billera.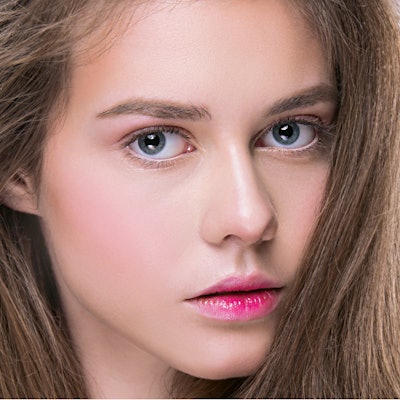 Finish First
Every type of lip finish appeared on the runway, with stains, glosses and satins pushing matte lips out of the limelight (though they're still very much on the scene). Modern lip glosses' innovative formulas make them a more palatable choice. "Gloss has transformed over the years from tacky and sticky to hydrating, plumping and nourishing," says Swaab. She recommends applying gloss directly to the center of the lip and working it lightly outward with a wand or lip brush. If your clients desire lasting color under that gleaming finish, Ardell educator Mae Manalo says, "Apply a stain before the gloss. This adds more color and pop to the look."
Speaking of lip stains, Glazer recommends these fade-resistant lip products to individuals with busy lifestyles. Because stains can be tricky to apply, you'll need to give some direction. "Advise the client to press the stain on the center of her mouth using her fingertips and lightly feather it out around the edges. Then, blot with a tissue, buff out the edges and press in a little more stain on the center of the lip," says Geason.
For conservative clients, the runways' best satin finishes bathed lips in creamy, dreamy color—think magenta, chocolate cherry, even terracotta. The central theme to every last one: bold color—which might make some clients balk. "Not all customers like to wear the trends, so encourage these clients to try something new by pointing out how it will brighten up their features and wardrobe," suggests Glazer. Or, dial down the intensity: "A wash of these vibrant colors is a great way for conservative
clients to be on trend without stepping too far out of their comfort zone," says Soto-Carlisle. To temper saturation, she shares this tip: "Instead of gliding on a lipstick as one naturally would, lightly tap the lipstick on and then have your client press her lips together."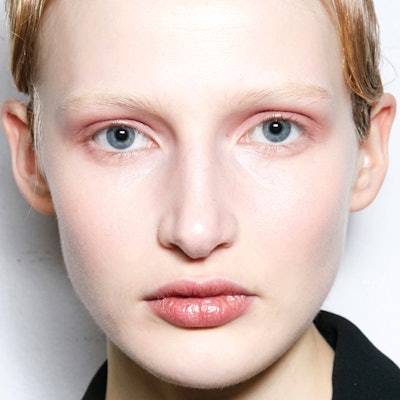 Think Pink All Over
Lids, lips and cheeks have synced up, and backstage makeup artists have chosen striking pink for the monochromatic palette. The blushing hue can be a tough one to pull off; Glazer notes that skin must be flawless (or flawlessly covered) "so no natural redness comes through," as that throws off the look. Adds Geason, "You should bear in mind whether your client uses foundation and whether she has pink undertones in her complexion, because if she does, rosy shadow will only highlight the pink in her skin."
Eyes awash in pink also need a bit of finessing. "If your client has redness in the waterlines of her eyes, she'll have difficulty with this trend," says Swaab. To counteract this, she recommends using an eyeliner pencil in matte white, beige or pearl to conceal any redness. If in doubt, Billera suggests keeping vibrancy to a minimum and scaling back on the trend's matchy-matchy ideal by "choosing one standout feature that will pop and keeping all other areas of the face soft and subtle, yet like-toned."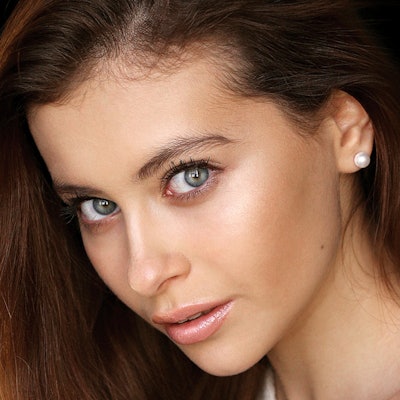 Skin-plicity
An emphasis on beautiful, glowy skin continues to all beauty trends from the runways. "This season is all about fresh faces with makeup that enhances the skin's natural beauty, rather than thick makeup that hides it," says Billera. Integral to skin that shines through is proper skin prep, followed by concealer, sheer-coverage foundation or tinted moisturizer. "Always start with skincare products that are ideal for the client's specific needs. This helps makeup look more natural in the long run," says Billera. "A toner, moisturizer, and eye serum or cream is always a smart start, along with a lip conditioner or rich lip balm."
The best part of this trend (besides a gorgeous complexion): It's possibly the easiest to retail. "Women these days are looking for multifunctional products. Showing a client a foundation that can double as her sunscreen is the best way to finish off any spa or salon service," says Soto-Carlisle.
–by Karie L. Frost
Smoky eyes with a reflective twist. Bold brows glossed and brushed to the hilt. A trifecta of lids, cheeks and lips blushed in perky pink. If fall's makeup trends seem a bit fantastical for your tastes, hold on to your makeup brushes: You're in for a season in which exercising creativity is highly encouraged. Yes, "no makeup" makeup still has life—after all, the athleisure trend in fashion continues to surge and, according to global information company The NPD Group, sales of long-wear, waterproof, natural-finish makeup is also on the rise. But experimentation with color cosmetics is at an all-time high too; just witness any number of