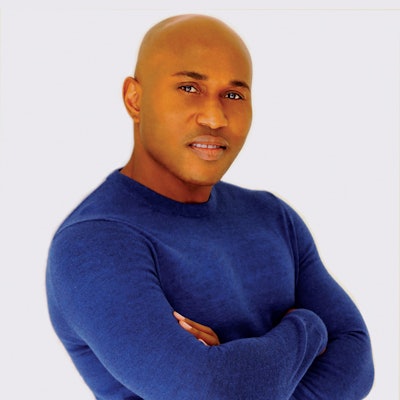 It's the quintessential American success story: Born under humble circumstances in Jamaica, Julian Reynolds immigrated to the U.S. in 1998 at 19 and hit the streets of New York City in search of a job. With little experience but plenty of natural charm, Reynolds found himself interviewing at J.C. Penney. "They needed a male makeup artist in the cosmetics department," he recalls. "I knew nothing about makeup, or even that makeup artistry was a career." Nevertheless, the energetic newcomer jumped in with both feet. "I made a few mistakes at first, but I'd studied art in high school and once I grasped the concept of the face as a canvas and that I was literally painting pictures, I became good at it really quickly."
In the years that followed, Reynolds moved steadily through the American retail network, working for Macy's, Bloomingdale's, Saks Fifth Avenue and Neiman Marcus before landing a gig as a manager for L'Oréal Cosmetics under its Kiehl's cosmetic brand division. Sometime later, the ambitious Reynolds decided to use his hard- earned savings to buy some property and relocate to Atlanta. After a stint at Nordstrom, he was recruited by a local retail spa boutique. He spent two years learning the business before he and his partner pooled their resources and opened Julian's Cosmetics + Skin Care in 2008.
RELATED: One on One With Robin Olson, VP of Marketing, Glo Skin Beauty
Since then, word of mouth has made Reynolds a hot commodity—he is frequently called upon to do makeup for models and celebrities at photo shoots and movie sets. His rise is far from over, however, as DAYSPA learned recently when we chatted with this enterprising artist and business owner.
On his spa and clients: We have three full-time makeup artists and two veteran estheticians working out of two spa rooms. Most of our business is by appointment, and antiaging is our biggest spa category. About 85 percent of our clients are Caucasian women between the ages of 35 and 65, and we also have about 5 percent men. The other 10 percent is a diverse group.
On making the most of his spare time: When I'm not working I try to get to the gym. I call that my therapy hour because it relaxes me; when I don't get there for a few days,
I get grumpy! I also love staying at home and playing with my dogs, Mushu and Cairo, a shih tzu and miniature pinscher.
RELATED: One on One With François Requier, General Manager, Silhouet-Tone
On his philosophy about beauty: I tell clients that there's no sense in buying $400 worth of makeup if you're not going to take care of your skin—that's where it all starts. You don't need as much foundation or even eye color when you begin with a clean, beautiful canvas.
On a typical day: I still do quite a few in-store appointments, so most of my time is spent there, but I also do off-location work in print, movies and commercials. I enjoy helping my spa clients the most, because it's so important to me to touch that everyday woman and make a difference in her life. The people I work with on a set or at a shoot are usually accustomed to having their makeup done, so they know what they like and dislike; I'm able to make more of an impact on the clients I meet through my spa. Plus, many of them have become close friends, so that has been a bonus!
On his rising fame: Well, I ended up in a TV series last year! I thought I was auditioning to be an actual makeup artist but it turned out to be an audition for a makeup artist role on a satirical talk show called 'Daytime Divas' on VH1. The whole cast, including Vanessa Williams and Tichina Arnold, have come to the store for facials, which is awesome.
On choosing products to use and retail: We have eight cosmetic lines in the store. I want products that look good, are healthy for the skin, offer impressive colors, and strong shadow palettes and pigments for all skin tones (as a man of color, that's very important to me). I'm all about having the skin look natural—foundation should not look like makeup. At the end of a consultation or session I'll make skincare and facial service recommendations as well. As for brands, there are so many skincare lines that I love, but my favorites include iS Clinical, Skinceuticals and Revision Skincare; for makeup I prefer Kevyn Aucoin and Smashbox.
On his greatest challenge: Certainly, when you're a small-business owner, the hardest part is getting your name out there and generating exposure for your brand. Fortunately, our customers are loyal and come back to see us again and again.
On his biggest reward: I think the greatest honor is to have people come into the store and be inspired by what I've accomplished. To get to this point—coming from a third-world country and a very poor family—has been a struggle. But by going to school, working hard and staying dedicated to my craft, I've gotten here. It's very rewarding to inspire a young person who might come in and think, 'I'd love to do this someday.'
– by Linda Kossoff